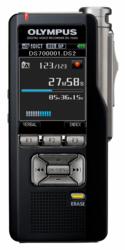 The Olympus DS-­7000 is designed around they key aspects that benefit users the most ....
Austin, TX (PRWEB) May 31, 2012
The leading supplier of digital dictation and speech solutions in the United States, Recorders.com, has announced their latest offering of the new Olympus DS-7000 digital recorder. The Olympus DS-7000 is made for professionals, enabling use of voice to capture dictations securely. With impressive recording features, the Olympus DS-7000 can also send messages through use of the Dictation Management Software.
The Olympus DS-­7000 digital voice recorder is the evolution of the most popular and widely used dictation recorders ever used to automate the digital documentation process. From the 16MB Olympus DS­-330, to products like the DS­-4000, DS­-3300, and DS-­5000, Olympus' digital recorders have dominated the market and been offered at the forefront of Recorders.com product lines. The Olympus DS-5000, which remains available through Recorders.com, has long been the number one selling unit year over year in the digital recording market place for medical, legal, and professional industries.
The evolution of hardware and software has been driven by the simple goal of finding more ways to simplify the documentation process for professionals. Olympus created the compatible AS-­7000 Professional Digital Transcription System, which automatically receives dictation files and allows authors and transcriptionists to do the things they do every day; to produce accurate documentation every time and from anywhere!
The Olympus Professional Dictation Management System also works with third­-party applications, so end-users can automatically transcribe audio files into text with programs like the Dragon NaturallySpeaking Speech Recognition solutions software.
"Speak, download and instantly automate the process of dictation," shares Krish Michaels, president of Recorders.com "The Olympus DS-­7000 is designed around they key aspects that benefit users the most with a large color LCD screen and an easy to use 4 position slide. It is sure to continue to please end-users with its optimized performance."
Centralized controls for single hand operation are also beneficial to potential users. The durable USB docking station and USB connector ensures fast download of dictation files. The rechargeable batteries offer up to 21 hours of operation and record times of up 300 hours with the built ­in storage. Operating system compatibility includes Windows XP, Vista, Windows 7, and Apple OSX.
For more information on digital recorders and related software offerings, please visit http://www.recorders.com/2273-Olympus-DS-7000-Digital-Voice-Recorder.aspx.
About Recorders.com:
Recorders.com is the leading supplier of digital dictation equipment in the United States. The company has been in the dictation, transcription, and voice recognition industry for over 10 years.
Established to help an ever-growing mobile society communicate information quickly and easily. The advantage of using Recorders.com is clear through their comprehensive and reliable technical solutions for the health care industry. Providing innovative technology, the experienced staff is trained to meet specific needs of Medical / Health care industry professionals. With fast and accurate product delivery, products ship same day and are met with unparalleled support. No other company is more dedicated to ensuring trust in product fulfillment. To learn more about other Recorders.com products and services, visit http://www.recorders.com.