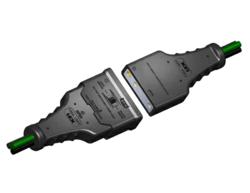 "Lex Products has created a molded stage pin extension that leverages proprietary design, construction and materials to deliver unmatched usability, performance and endurance," said Bob Luther, CEO of Lex Products.
SHELTON, Conn. (PRWEB) May 31, 2012
Lex Products will offer a sneak preview of its unique, new EverGrip® Molded Stage Pin Extension at Booth #114 of the Cine Gear Expo, to be held June 1st and 2nd at Paramount Studios in Hollywood, California. Lex Products has revolutionized stage pin extensions using breakthrough technology and innovative design to create the first-ever overmolded stage pin cable extension.
"Lex Products has expanded its EverGrip line with a molded stage pin extension that leverages proprietary design, construction and materials to deliver unmatched usability, performance and endurance," said Bob Luther, chief executive officer of Lex Products Corporation. "To further advance stage pin performance and extension longevity, the EverGrip Molded Stage Pin Extension is available with a male connector safety shroud that offers even greater protection against connector pin damage."
Lex Products developed the EverGrip Molded Stage Pin Extension and safety shroud in response to industry research, which revealed crushed and bent pins were the primary cause of stage pin connector failure, resulting in poor connections between male and female devices.
Exclusive Safety Shroud for Extra Connector Pin Protection: The spring-loaded shroud features a lock button that fastens the shroud in the forward position to prevent damage to pins, or in the retracted position for easy mating with panel mount receptacles. A separate connector lock button fastens male and female inline connectors together when mated to prevent accidental disconnection.
Proprietary Construction: The new EverGrip Molded Stage Pin Extensions, available in 60 and 100 Amp ratings, contain thermoset resin contact carriers, which resist electrical tracking and can withstand higher temperatures caused by overload or arcing. Lex Products' exclusive premold design bonds the cable and connector together to deliver superior strain relief and secure terminations. An impact resistant thermoplastic elastomer overmold prevents internal damage to pins and contacts and is insulated for safe handling.
Designed for Ease of Use and Extended Cable Life: An exclusive, ergonomic, tapered hand grip provides a firm gripping surface for easy connector mating and unmating. The extension's rugged, one-piece connector construction inhibits infiltration of contaminants and eliminates joints and loose assembly screws. A UV-stabilized thermoplastic elastomer exterior prevents connector housing degradation when used outdoors.
Availability: Lex Products plans to start shipping its new EverGrip Molded Stage Pin Extensions this summer.
About Lex Products Corporation:
Lex Products Corporation is a leading manufacturer of innovative power distribution and control systems for demanding markets, including entertainment, industrial and the military. Founded in 1989, the company specializes in portable power systems including distribution boxes, cable assemblies, cable protectors and other products, designed to withstand rough use and harsh environments. Lex Products is ISO 9001:2008 certified in the design and manufacturing of sheet metal and cable assemblies. Created by the International Organization for Standardization, ISO 9001 is an international standard that mandates requirements for an organization's quality management system.
Headquartered in Shelton, Connecticut, the company also has offices in Sun Valley, California. The company was ranked in the 2011 Inc. 5000, and ranked 72nd for growth in the manufacturing segment. To learn more about Lex Products, please visit http://www.lexproducts.com.