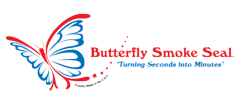 "I think that your Butterfly Smoke Seal product has the ability to save many lives, both at home or whatever commercial/public building you may be at." - Keith F Wood, Past Fire Chief, Grand Island Fire Company, NY
Buffalo, NY (PRWEB) May 31, 2012
Before reading further, look at your watch and time holding your breath. Medical research states the average person can hold their breath 45-60 seconds. Imagine realizing you are in a building fire, be it in your bedroom, hotel, office, hospital room, dormitory or military barracks. Panic sets in and your heartbeat races, demanding even more oxygen, reducing escape and rescue time to a few seconds before deadly toxic fumes and smoke overwhelm you. In 2011, 91% of civilian fire fatalities were from smoke inhalation and thermal burns.
Entrepreneur Al Shaw, an inventor and vendor of firewall barriers for commercial buildings, set out on a mission to help people in fires extend their seconds into life-saving minutes. He invented the Butterfly Smoke Seal™ fire emergency kit, launching a new company – Butterfly Safety Products.
With but seconds to survive, Shaw aims to help increase fire victim survival with his invention. He designed his Butterfly Smoke Seal™ kit to install quickly in a way similar to weather stripping. Even his toddler granddaughter helped him install the kit. The fire-retardant strip unrolls to fit underneath the bottom of a wooden or metal door that stands between the user and a room with a fire. The user then has a few minutes to call 911. In lieu of a phone, the kit comes with an emergency glow stick for signaling an SOS through a window. The Butterfly Smoke Seal has been UL approved, effective for doors 22 to 48 inches wide.
In parallel to his innovation efforts, Shaw intends to reinvigorate the discussion on fire safety protocol. Working with industry experts and firemen of New York State, he tested their response to the Butterfly Smoke Seal™. Endorsements resulted, highlighted at http://www.ButterflySmokeSeal.com. Today, the mounted and travel versions of the kit, available via a range of standard door sizes and special request commercial options, are in production at a retail cost of $49.95 per kit – comparable to complementary fire extinguisher, fire and smoke alarms, and carbon monoxide safety products. Shaw, a U.S. Navy veteran, has diligently maintained production standards to proudly deem this kit "Made in the U.S.A.".
Shaw offers Fire Facts impacting people on a personal level:

Poisonous gas and smoke is the #1 killer of children 14 and younger.
According to the Center for Disease Control and Prevention, most fire-related fatalities occur from detrimental smoke inhalation, not burns.
In three minutes, the human body shuts down without oxygen.
Death by fire or burns is the third leading cause of lethal home injuries.
Heat from a fire alone can injure or kill a person before he or she is exposed to direct flame.
Structural fires can engulf a room in less than 30 seconds, spewing dark, blinding billows of smoke that fill lungs with toxic, suffocating fumes.
M.J. Karter's report on fire loss in the United States in 2010 indicated a fire death every 169 minutes, and an injury every 30 minutes.
Shaw will demonstrate the production version of the Butterfly Smoke Seal™ at the INPEX 2012 Innovation Conference in Pittsburgh, PA, June 13-15. Major television and publication media will be attending. Retail and Commercial pre-show inquiries offer signs of further notoriety and market potential of Shaw's quest to offer a cost-effective convenient and proven fire-smoke safety product to help save lives.
About the company:
The Butterfly Smoke Seal™ project, of Butterfly Safety Products, LLC based in Buffalo,NY, was created in dedication to inventor Al Shaw's sister, Regina L. Burch. She was a retired kindergarten teacher from Marilla, NY. The kit is designed to protect lives by extending rescue time, preventing poisonous gas and smoke from entering though the door during of a fire. For more information and order requests, visit their website at http://butterflysmokeseal.com.