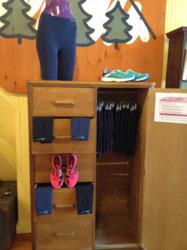 Store owner, Julie Francis remarked, "...since wearing the Pivot Shorts I've not had any soreness."
New Haven, CT (PRWEB) May 31, 2012
Aspaeris is pleased to announce the availability of Pivot Shorts at the athletic apparel store, Sound Runner in Branford, Connecticut. Aspaeris Pivot Shorts (APS™) are the only technical compression short designed exclusively for female athletes that improves performance, speeds recovery and prevents injury. Sound Runner is a family-owned specialty running store conveniently located across from the Branford Town Green and is open seven days a week.
"We are excited to be the first store to carry APS," says General Manager, Preston Ranton. "Aspaeris is really the only company producing such an effective, multi-functional compression short for female athletes, so we're eager to offer it to our customers."
Store owner, Julie Francis remarked on her personal experience wearing APS™ during her core workout classes. "I'm usually very sore for two days after that class, but since wearing the Pivot Shorts I've not had any soreness."
Aspaeris Marketing Manager, Kari Ricigliano, explains why Sound Runner is an ideal retail outlet for APS™. "Sound Runner is a great store in that all of the staff are runners, so they are all fantastic resources," Ricigliano notes. "As Aspaeris enters the retail market, we want to be sure that stores are able to fit the athlete correctly and fully explain the three-fold benefit of wearing the Pivot Short: performance, recovery and prevention."
For the past year, APS™ has only been available for purchase via the Aspaeris website. During this trial period, APS™ has gained tremendous appreciation among female runners. The fastest all-female Ultra team in the Ragnar Relay SoCal 2012 wore the shorts during the 200 mile relay race, as well as during training and recovery. In a recent survey, 80% of Pivot Short users reported a performance increase and 62% reported significantly faster recovery time when wearing the shorts after long runs. Aspaeris is also a proud sponsor of the Hartford Marathon Foundation, and will have Pivot Shorts for sale at the following races: Simsbury's Amica Iron Horse Half Marathon, 10K & 5K on June 3rd, the Red Dress Run for Women presented by United Healthcare on July 7th in West Hartford, the Women's Triathlon on September 9th in Farmington and the signature ING Hartford Marathon on October 13th in Hartford.
Contact Information for Aspaeris:
Kari Ricigliano
Marketing Director
Aspaeris Pivot Shorts
a brand of Samara Innovations
33 Whitney Avenue, New Haven CT 06510
C: 203.314.1068
P: 203.687.4864
kari(at)samarainnovations(dot)com
@aspaerispivot
Contact information for Sound Runner:
Preston Ranton
General Manager
1088 Main Street, Branford, CT 06405
P: 203.483.8222
info(at)soundrunner(dot)net
About Aspaeris
Founded by Samara Innovations, LLC in 2010, Aspaeris is a female-centric sportswear company that strives to protect athletes from injury and enhance their performance with advanced compression apparel. The Aspaeris Pivot Short (APS™) was created to help prevent non-impact ACL injuries in high-performance female athletes. APS™ is a unique compression short that has two layers. The outer short is a high performance compression short designed to support muscles. The inner short uses patent-pending technology called Dual Sensory Compression Bands™ to help guide the athlete into proper position while she pivots and runs. Aspaeris sponsors the NoACLHurt blog which features stories on recently injured or recovering female athletes. Athletes can also engage Aspaeris via Facebook and Twitter. To learn more about APS™, visit http://www.AspaerisPivotShorts.com.
About Sound Runner
Sound Runner is a family owned and operated specialty running store located on the Connecticut Shoreline. There are two locations, Branford and Old Saybrook, which sell footwear, apparel, and accessories for men, women and young runners. For more information about Sound Runner, visit http://www.soundrunner.net
Media Contact:
Allison M. Whittaker
240-515-8929
AspaerisPivotShorts.com
# # #