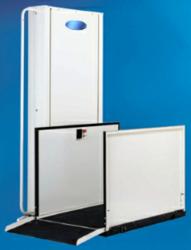 Purchasing one of these highly affordable DIY vertical lifts can save the customer up to $1000.00 or more
Port St Lucie, FL (PRWEB) May 31, 2012
Due to the recent recession, the raging popularity of internet shopping, along with the ever-expanding "Home Depot demographic," a new demand for a DIY (Do-It-Yourself) vertical wheelchair lift has emerged. This vastly growing demographic includes handy individuals who enjoy working on projects around the home. For them, it is not necessary to spend hundreds of dollars hiring a professional to install a wheelchair lift in their home. The Lift Store has announced that vertical platform lifts for self-installation are now available for residential applications.
Only recently has this type of mobility lift been made widely available, as most manufacturers have only allowed their vertical lifts to be professionally installed, forcing many customers to spend hundreds of dollars more on what they consider to be an unnecessary expense. But all that is in the past now that The Lift Store offers a line of DIY vertical platform lifts from Harmar – a leading manufacturer of various types of handicapped lifts. "Purchasing one of these highly affordable DIY vertical lifts can save the customer up to $1000.00 or more – a huge advantage during these difficult economic times," reported Dennis Corrado, Director of The Lift Store. They are also easy to install, requiring only a couple hours of time and a few basic tools.
The Lift Store now features the Harmar RPL Residential Platform Lift – the leading DIY vertical lift model in the United States. This model is made in America, is available in both 4' and 6' lift heights, and is ASME A18.1 Certified for safety. Additionally, customers will enjoy other standard features, such as, solid side panels, bottom safety panel, and an automatic folding ramp. Also included is a 1-Year Warranty and free tech support from the manufacturer.
Due to the surging growth of the DIY market, The Lift Store has also announced the opening of a separate division solely focused on the DIY market for handicapped lifts effective the 2nd quarter of 2012.
The Lift Store USA is the mobility lift division of New Line Products LLC. The Lift Store features various types of mobility lifts for both commercial and residential applications. They also offer professional installation services in New York, California, Florida, and the Caribbean Islands. It's founder and director – Dennis Corrado, has over 10 years experience installing and troubleshooting various types of handicapped lifts, such as, vertical lifts and stair lifts.