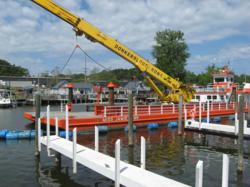 I am glad that we were able to receive such outstanding cooperation from the Michigan DEQ and neighboring landowner Dale Ender
St. Joseph, MI (PRWEB) May 31, 2012
Pier 33 Marina of St. Joseph, Michigan has recently completed a self-funded dredging of a critical area of the Morrison Channel.
Morrison Channel is a public waterway that allows boaters direct access to Lake Michigan around the southwest side of Marina Island, the shortest and most convenient route from all upriver points to Lake Michigan.
An extraordinarily dry 2011-2012 winter and 2012 spring contributed to accelerated shoaling in Morrison Channel and reduced depths to less than three feet in some areas between Pier 33's South and East Marinas, straddling the Channel. As a property owner on both sides of the Morrison Channel, Pier 33 holds a permit through the Michigan DEQ and U.S. Army Corps of Engineers to dredge a designated area, but receives no financial support from any governmental agency to do so. The entire project was self-funded by Pier 33, a division of LECO Corporation.
With the cooperation of the Michigan Department of Environmental Quality, Pier 33 was able to obtain an extension of the allowed dredging period. Dredge operations began in early May and completed in time to meet an important fisheries deadline of May 31. Approximately 9,000 cubic yards of Channel sediment was hydraulically removed to Pier 33's retention pond on Marina Island.
The dredging was performed by Donkersloot & Sons of New Buffalo, MI.
"I am glad that we were able to receive such outstanding cooperation from the Michigan DEQ and neighboring landowner Dale Ender, " said Pier 33 general Manager Tighe Curran. "The work performed by the Donkersloot crew was excellent. We appreciate the cooperation of all our boaters while this project was underway. This area of the Morrison Channel is now navigable for Pier 33 boaters, as well as boaters from neighboring marinas".
The east side of Morrison Channel was dredged to a depth allowing deep-draft powerboats easy transit and the South (southwest) side is suitable for boats comfortably drawing up to four feet, but all vessel operators should exercise caution when first experiencing the changing contours of the Morrison Channel, as well as other areas of the St. Joseph River during current low water conditions.