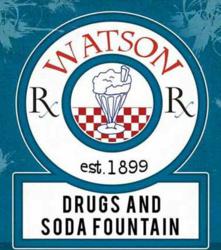 Watson's reminds us of the best of the past and we are proud to introduce health products of the future to this iconic location
Irvine, California (PRWEB) May 31, 2012
Tangut USA, known for its newest pollution-free, anti-aging supplement Resvene, announces that its line of natural health products will be sold at Watson's Drugs and Soda Fountain, Orange County's oldest drugstore and the oldest on-going business in the city of Orange.
"Watson's reminds us of the best of the past and we are proud to introduce health products of the future to this iconic location in the historic plaza of Old Towne Orange," said Diana Yuen, CEO of Tangut USA.
Established in 1899, Watson's Drug is a mélange of nostalgia from the Golden Age – complete with a collection of classic signage, memorabilia, furniture, the famous soda fountain, and a jukebox filled with tunes made popular fifty years ago. It also features a unique "chosen with care" gift boutique, featuring many items styled in a by-gone era.
The inside and outside of Watson's has been used to film many movies. Notably, That Thing You Do, used Watson's as a set, as did the Barbara Eden film The Stepford Children and Burt Reynolds' Cannonball Run. Producers of television commercials have also used the natural ambiance inside Watsons to film spots starring (among others) Don Knotts, Shelly Hack, and Jimmy Smits. Even President George W. Bush has stopped by for one of its famous malts.
While Tangut USA is a comparatively newer firm, its timeline only stretches back 20 years through its pharmaceutical-based parent company, it recognizes the significance and beauty in the preservation of history. Tangut's organic health products are from the pollution-free region of Tibet, a land rich in a tradition and culture of its own. Tangut combines the best of science with the best of nature and is now able to introduce the best of the east to the best of the west.
Tangut will launch its products in conjunction with Watson's on July 28, 2012. The day will be highlighted with product demonstrations, free samples and giveaways.
Three products will be available for purchase at Watson's and several others are in the pipeline. One of the products, Resvene, is described as a natural anti-aging and cell-revival formula made from 98% pure Trans Resveratrol, a Harvard-researched natural ingredient that activates the Sirt1 anti-aging gene. The other two products are titled Seaberry Essence and Seaberry CardioMed. Both are made from USDA and EU certified organic Sea Buckthorn seed oil which has been claimed by the Dr. Oz show as being beneficial for the heart, stomach, mouth, skin hair, nails and even weight loss due to its unique Omega 7 properties.
About Tangut USA Corporation
Tangut Corporation is a pharmaceutical-based company that combines the best of nature with the best of science to develop new, innovative products for the health industry. Tangut's unique line of natural products is clinically-proven and is made with bioactive ingredients drawn from the purest organic source in the world – the pollution-free Tibetan Plateau. Its award-winning experts in research and development are recognized worldwide and share the Tangut belief of using creative and sustainable solutions to face today's health challenges and discover new opportunities for tomorrow.
For more information about Tangut USA please call 949-529-2829 or visit http://www.tangutusa.com.