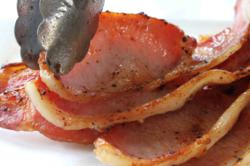 It doesn't get any better than this!
Monterey, CA (PRWEB) May 31, 2012
This week sees 60 years of Queen Elisabeth's Reign as the Queen of England. Events are planned all over the UK in celebration with street parties, concerts and beacons of light all over the British Isle. http://www.thediamondjubilee.org/
Chef Tony Baker's flagship bacon is his "Back" bacon, while traditional American-style bacon comes from the underbelly of the pig, creating meat streaked with fat. Baker's English-style bacon is derived from the lean back of the pig — a cut above! — cured with a nice balance of sweetness to salt, and a smoky, complex flavor.
Sourced from sustainable, naturally raised hogs, Baker's Back Bacon is hand-rubbed with a blend of turbinado sugar, kosher salt and a secret concoction of spices. Next, it's slowly smoked in a 50+ year old smokehouse for many hours with real apple wood.
Baker says, "It takes me back to my English roots. It really doesn't get any better than this!"
Made in the USA but inspired by a centuries' old method and perfected by a chef's personal demand for quality and sustainability, Baker's Bacon is truly a cut above ordinary bacon.
Baker's Bacon is sold primarily to the Foodservice industry, however is now available to mail order customers through the Baker's Bacon website.
For the past 15 years and counting Chef Tony Baker has served as Executive Chef/Partner at one of Monterey's finest restaurants, Montrio Bistro. He participates in events such as Pebble Beach Food and Wine and the Monterey Bay Aquariums Cooking For Solutions and is a significant proponent of real food.
For more information on Chef Tony Baker, visit http://www.bakersbacon.com.