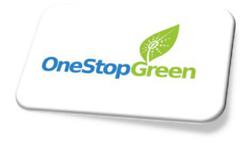 "Our Energy Savings Calculator makes completing an energy audit and identifying inefficiencies in the home easier than ever," says One Stop Green President Sohail Hassan.
Houston, TX (PRWEB) May 31, 2012
One Stop Green releases a comprehensive Energy Savings Calculator that estimates potential solar, water, lighting and wind resources in your area as well as estimated annual energy and monetary savings for any home or business.
The Energy Savings Calculator takes a user's location plus data on sunlight, rainfall, and wind speed to calculate how much energy a user can generate from renewable resources. By putting in the average monthly electricity use, desired efficiency, and the cost of the electric bill for a home or business, the Energy Savings Calculator will display any expected annual savings. In addition, the Lighting portion of the Energy Savings Calculator can display how much energy can be saved by switching from incandescent bulbs to more energy efficient compact fluorescent or LED light bulbs. The Wind Calculator will estimate the ability to produce power via wind by using the location's wind speed and desired efficiency. Finally, the Water Savings Calculator will calculate the potential to harvest rainwater by using historical data such as inches of rainwater fall for a location. Once a user has completed these various Energy Calculators, they will have a better idea of the cost and savings associated with each solution. Users in a sunny areas may not have wind available and thus find that their potential for producing power via solar is the best, most efficient option. People in areas where water shortage is a real problem will see that it is in their best interest to preserve and maintain a water supply by harvesting rainwater when it is available.
After estimating the potential for solar, wind, water, and lighting options, users can then create a project profile with One Stop Green, where the project profile asks questions about the property and outlines what the goals are. Climate data and other inputted information is displayed on the Green Project Page. Users who save their profiles are easily able to download templates, budget sheets, and other tools and resources and even schedule an energy audit or ask a One Stop Green expert should they have any questions all for free. Take a Green Project a step further by first completing a free energy audit of your home via the One Stop Green mobile app. Download the app and select the Conduct an Audit section to name the project and do a complete energy audit of any home. Once all the questions are answered and the audit is complete, a Green Score is generated that shows how energy efficient the home is in an easy to understand format similar to a nutrition label. There is also a link to related Green Solutions and products on the One Stop Green website to help identify problem areas and find solutions to address those inefficiencies and save on money and energy.
One Stop Green, LLC facilitates environmentally friendly improvements to residential and commercial properties through distribution of green, energy efficient products and services. They offer every product needed for sustainable energy independence enabling homeowners, businesses and commercial property owners to master their usage by reducing waste and implementing efficient energy consumption methods. Their goal is to provide user friendly and practical long-term solutions to existing inefficiencies and their carefully selected products and professional installers offer a higher level of satisfaction and service for their customers.
Contact:
Nathan Kaufman
http://www.OneStopGreen.com
P: 877.449.9110|O: 713.541.2739|C: 210.846.5900
###