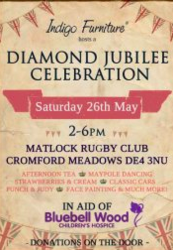 The money which was raised at the event goes straight to the charity who provide care and support for children with a shortened life expectancy
(PRWEB) May 31, 2012
Indigo Furniture celebrated the Diamond Jubilee with their nominated charity for life Bluebell Wood Hospice. The money which was raised at the event goes straight to the charity who provide care and support for children with a shortened life expectancy in North Derbyshire, South Yorkshire, North Nottinghamshire and North West Lincolnshire. The invaluable care the hospice provides to both the children and their families is what has led to Indigo Furniture doing everything they can to help them in any way possible.
This sentiment was also shared by Olympic Swimmer Ross Davenport who not only attended but opened the event and had this to say;
"I'm really proud to be working along side Indigo to support such a worthy charity. The love and care Bluebell Wood Hospice offer, to young children and their families at such difficult times is invaluable. I hope I can help raise the profile of what these wonderful nurses and helpers do for families during this totally devastating time"
As well as being supported by Indigo Furniture and Ross Davenport, other local Peak District companies such as Holdsworth Chocolates and Thornbridge Breweries both donated Raffle Prizes as well as iconic British brand Mulberry who also donated.
The event was truly a celebration of all things British and most importantly raised a huge amount of valuable money for the Hospice who rely on events like this to run the hospice itself. As Bluebell Wood Chief Executive Sarah Champion explains,
"It costs £3 million annually to provide support to local children and their families and as a charity the hospice receives no statutory government funding. Without the support of companies like Indigo, we simply couldn't help as many children as we do."
For more information about Bluebell Wood Hospice and the work they do visit their website which can be found here or to find out more about the work Indigo Furniture have carried out with Bluebell Wood Hospice visit here.