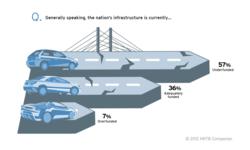 We need to tap into alternative revenue sources.
Kansas City, MO (PRWEB) May 31, 2012
Infrastructure is on the minds of the American public. According to a survey from HNTB Corporation, nearly 9 in 10 (87 percent) agree transportation funding is a public investment worth making.
"Americans value infrastructure and are willing to invest in projects that make a difference in their communities," said Pete Rahn, HNTB leader national transportation practice. "Transportation improvements create jobs, encourage development and ease congestion."
According to the Federal Highway Administration, in 2007 every $1 billion in federal highway expenditures supported about 30,000 jobs: 10,300 in construction, 4,675 in supporting industries and another 15,094 in induced employment.
This sentiment also is borne out by the results of many local transportation-related election issues, which historically pass more than 73 percent of the time.
Yet few are willing to pay more in gas taxes, the traditional form of revenue for surface transportation projects at the state and federal levels. Perhaps this is because approximately half of Americans (51 percent) are not confident that they taxes they pay to build interstates are making a difference.
A recent report issued from the Miller Center at the University of Virginia and a bipartisan conference, including former U.S. Secretaries of Transportation Norman Mineta and Samuel Skinner, acknowledged this lack of confidence and the need to better articulate the positive stories generated by such investment in communities' economic competitiveness and quality of life.
Many are driven toward tolls to pay for such projects. In fact, more than 3 in 5 (61 percent) Americans would prefer to get additional infrastructure funds through tolls rather than an increased federal gas tax or a vehicle miles driven user fee. And 37 percent would be willing to pay more tolls in order to improve interstate highways, while just 17 percent would pay additional gas taxes.
"We need to tap into alternative revenue sources," Rahn said. "Tolling is an important part of the mix, but we also should recognize one sized doesn't fit all. All options should be on the table, and we should do more to educate the public on where public-private partnerships, state infrastructure banks, alternative bond programs and other sources of revenue are making a positive difference."
While there may be a need to tell transportation's story more effectively, the general public does believe in the value of a national transportation program.
If the U.S. Congress passes a new surface transportation bill, now being discussed in a joint House and Senate conference committee, many America's see positive benefits, including creating thousands of jobs (61 percent), making infrastructure safer (57 percent) and saving money in the long run (43 percent).
About the survey
HNTB's America THINKS national highway survey polled a random nationwide sample of 1,024 Americans April 2-10, 2012. It was conducted by Kelton Research, which used an e-mail invitation and online survey. Quotas were set to ensure reliable and accurate representation of the total U.S. population ages 18 and over. The margin of error is +/- 3.1 percent.
About HNTB
HNTB Corporation is an employee-owned infrastructure firm serving public and private owners and contractors. With nearly a century of service, HNTB understands the life cycle of infrastructure and solves clients' most complex technical, financial and operational challenges. Professionals nationwide deliver a full range of infrastructure-related services, including award-winning planning, design, program delivery and construction management. For more information, visit http://www.hntb.com.