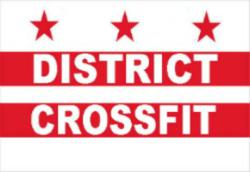 CrossFit is based on varied functional movements executed at high intensity.
Washington D.C. (PRWEB) May 31, 2012
Capital Retail Group today announced District CrossFit, a fitness and training company serving up high intensity workouts to both avid athletes and those new to exercise, has signed a 10,000 square foot lease at 1525 Half Street in the Capitol Riverfront neighborhood of Washington D.C. Ideally located two blocks from the Navy Yard Metro and the Nationals baseball Stadium District CrossFit aims to be open sometime in the third quarter of 2012.
District CrossFit owner Andrew Killion says "We believe in the CrossFit training methodology because it's the most efficient and effective training protocol we've discovered." He goes on to say, "We are excited about bringing CrossFit to the Riverfront." Indeed according to the Capitol Riverfront BID the area is already home to a mixed-use community of over 35,000 daytime employees in 6.8 million SF of office including the Washington Navy Yard and U.S. Department of Transportation, 3,000 plus residential units including apartments, condos, co-ops and townhouses with an estimated residential population of over 4,000 people, a 204-room Courtyard by Marriott, the 41,000 seat Nationals Park baseball stadium, and a continuous one mile riverwalk trail from Diamond Teague Park to the 11th Street bridges.
Robert Tack, CEO of Capital Retail Group represented the tenant. Tack says "The building is perfectly set up for a CrossFit with concrete floors, high ceilings, open floor plan, and rectangular shape. The bonus is easy access to the metro."
About Capital Retail Group
Capital Retail Group provides a full range of brokerage, property management and strategic advisory services to the commercial retail sector serving Washington DC, Maryland, and Virginia. Follow us on Twitter, Facebook, and our Blog.