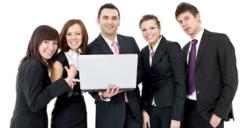 Baltimore, MD (PRWEB) May 31, 2012
Managed Network Services Group (MNS Group), Maryland's premier provider in Technology as a Service, announce they are in the final stages of obtaining the latest SSAE 16 SOC Certification.
The latest on a long list of certifications and credentials boasted by the IT service provider provides clients with the highest form of assurance in MNS group's systems and internal controls as it relates to the client's sensitive financial information and systems.
The Maryland IT company – headquartered in north of Baltimore in Harford County – is one of very few IT/IS service organizations to invest in this high level of accountability.
"Once again, MNS Group has increased the value of our service to their clients through continued internal development and investment in excellence," CEO Toby Musser said.
Musser, one of the most respected and coveted technical minds in the region, has served small businesses in the region in need of enterprise level support for years.
The SSAE -16 SOC 1is a verification on the internal controls and processes that MNS Group uses when managing a client's sensitive financial systems and software, or systems that might affect one's sensitive systems. This provides the client with a shorter audit cycle as well as additional peace of mind for investors and stakeholders in an organization.
MNS Group has provided IT consultation and management information services to business small and large across the region since 2008. The Maryland TaaS solution prides itself on the range on their diverse range of IT service offerings, as well as unparalleled service guarantees. Their track record has helped build a strong reputation in the IT services market through delivering utmost quality and service to their valued business partners.
About MNS Group
MNS Group is a leading IT services firm that offers innovative solutions to business partners through business network management, process consulting, and workflow development measures. MNS Group provides top-level support through a professional and highly-trained staff with multiple certifications from major industry companies including Microsoft, Cisco and Novell. MNS Group's industry experience includes healthcare, banking, education, accounting, communications, security, government and legal services. MNS Group is a Microsoft Gold Certified Partner and a VM Ware professional partner. For more information, please visit http://www.mnsgroup.com.