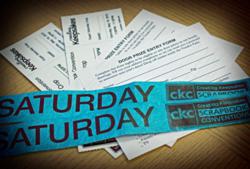 "WAHOOOOO!!!! $50 to buy scrapbook stuff at convention...doesn't get better than that! And thanks a bunch for the VISA gift card!!!" - Adair (Portland, OR)
Collinsville, IL (PRWEB) May 31, 2012
Scrapbookers in the St. Louis area who register online for classes, shopping, and crops are automatically entered in a special drawing for a $100 Visa Gift Card. Online registration closes at midnight ET on Thursday May 31, 2012. Online registrants also save money (online classes are $2 less than tickets purchased at the convention) and receive free items, depending on the number of classes and activities purchased.
Attendees that are unable to register online can purchase class and crop tickets as well as shopping passes at the convention starting the afternoon of Thursday, June 7. A $3 off coupon for the Vendor Faire (shopping area) is available online the week of June 4th.
For more detailed information, please visit http://www.CKScrapbookEvents.com/stlouis.
Creative Crafts Group
Creative Crafts Group consists of a diverse mix of traditional magazine publishing, online, and digital media, multiple consumer and trade events, merchandising as well as domestic and international product licensing. Creative Crafts Group's foundation is built on nine leading consumer magazine titles with a combined circulation of 1.2 million. Creative Crafts Group consumer magazines are household names and market leaders providing content and community resources for scrapbooking, paper crafting, quilting, and sewing. The publications are Creating Keepsakes, Paper Crafts, Quilter's Newsletter, McCall's Quilting, Quiltmaker, McCall's Quick Quilts, Quilter's Home, Sew News and Creative Machine Embroidery. Creative Crafts Group is a division of New Track Media. For more information, please visit http://www.newtrackmedia.com.