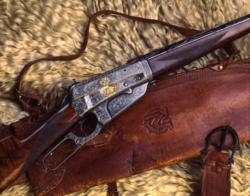 The Buffalo Bill Historical Center's Firearms Records Office processes approximately 8,000 serial number searches each year...
Cody, Wyoming (PRWEB) May 31, 2012
Since the Buffalo Bill Historical Center in Cody, Wyoming, possesses all known surviving manufacturing records of Winchester, Marlin, and L.C. Smith firearms, its requests for records research services have increased markedly. For the gun owner and trader, having official records available assures the collector of the value of his firearm. Consequently, the Center's Cody Firearms Museum has expanded its Records Office hours to be available by phone to search for gun records for those attending gun shows throughout the country. In some cases, the Records Staff is also on site to conduct the searches.
"For instance, we scheduled weekend hours for the Las Vegas Antique Arms Show; National Gun Day, Louisville, Kentucky; and the Big Reno Show," explains Jesi Bennett, Cody Firearms Museum Records Specialist. "We also attended the prestigious Wanenmacher's Tulsa Arms Show and the Colorado Gun Collectors Association Annual Gun Show in Denver. We have really expanded our services to firearms customers. These historical records aren't simply enclosed in a vault, we use them every day, all day long--even via the Internet."
"Also included in the records are special order guns, which were custom made for individuals and are therefore very unusual and otherwise difficult to trace," says Bennett. "The Winchester records, with a few exceptions, catalog guns manufactured between 1873 and 1940; the Marlin records span 1883 – 1907; and the L.C. Smith records are dated 1890 – 1948. Although the records are the most complete available, there are still many unknowns, and each set of records provides different and very limited, information. For example, there are instances of serial numbers starting over at 'one' for no apparent reason, and, intermittently, large portions of the ledgers were left blank with serial numbers listed but no explanation."
Gun owners know too well the value in these unique records. After receiving the Winchester Factory records in the mid 1970s, the Buffalo Bill Historical Center began its Records Research Service. "The Center's Firearms Records Office processes approximately 8,000 serial number searches each year—most of which come from people outside Wyoming," Bennett continues. "In the world of antique firearms, being certain of authenticity is a must as these guns can cost anywhere from $700 to $85,000. Another popular service we offer is Factory Letters. These are official letters that certify the authenticity of the serial number on the gun as well as any manufacturer specifications listed in the ledger. The Firearms Records Office sends about 3,000 Factory Letters per year to every corner of the globe."
Most of the records used on a daily basis are now stored electronically; however, they are direct copies of the original handwritten ledgers dating back to the mid-to-late 19th century. Consequently, all research is still done using primary sources.
Serial number searches and Factory Letters are the most common uses of the Winchester, Marlin, and L.C. Smith records, but there are others according to Bennett. "Although it's rare, the ledgers have been used to identify special order guns that were made for heroes of the American West or guns that were owned by Buffalo Bill himself.
"The best part of my job is getting to interact with people from all over the world….and getting to discover previously unknown information about firearms. The Buffalo Bill Historical Center's Cody Firearms Museum is fortunate to play host to such a remarkable wealth of information, and because of this, Cody, Wyoming, is known by gun collectors and aficionados worldwide," she adds. "We are excited at reaching more and more firearms fans."
Office hours for the records office are 8 a.m. – 4 p.m., Monday – Thursday and 8 a.m. – 3 p.m. Friday. For more information on the Firearms Records Office, as well as factory letters, serial number searches, and membership with firearms benefits, visit the Center's Web site, or call Bennett at 307.578.4031. Mailed inquiries should be sent to: CFM Records Office, Buffalo Bill Historical Center, 720 Sheridan Avenue, Cody, WY 82414.
Committed to connecting people with the Spirit of the American West, the Buffalo Bill Historical Center weaves the varied threads of the western experience—history and myth, art and Native culture, firearms technology and natural history—into the rich panorama that is the American West. The Center, an Affiliate of the Smithsonian Institution, is now operating on its summer schedule, 8 a.m. – 6 p.m. For general information regarding the Buffalo Bill Historical Center, visit http://www.bbhc.org or call 307.587.4771.