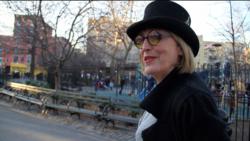 The aesthetics of the film will compliment Bornstein's personality, "pretty, erratic, queer and inspirational," Feder says.
Brooklyn, NY (PRWEB) May 31, 2012
With over 34 days left in their Kickstarter Campaign, the filmmakers behind a new documentary about transgender performer and author Kate Bornstein have raised $19,000 and are close to reaching their goal of $20,000. "Kate Bornstein is a Queer & Pleasant Danger" is an intimate portrait of an artist who is one of the most influential minds over the past three decades in gender theory.
Director Sam Feder states, "The film is not a biography, but a multi-genre study of a human being who defies conventional gender myths and artistic genres." Bornstein is the author of six books including Gender Outlaw, the novel Nearly Roadkill and the recently published memoir, A Queer and Pleasant Danger. She has also written and performed in performance pieces such as "Strangers in Paradox," and "Hidden: A Gender."
As the film explores Bornstein's artistic practice, her inspirations, and personal life, it will reveal how she has created language, space, and permission for generations of people to live their lives as they see fit. Bornstein's freewheeling philosophy is cheerfully annotated in the film – she states "do whatever it takes to make your life more worth living, just don't be mean."
"People who know and love Kate Bornstein and her work can't believe that a film about her has never been made," Feder exclaims. "She has been an inspirational figure for decades, inspiring entire generations of gender outlaws and queers to be their truest selves."
The aesthetics of the film will compliment Bornstein's personality, "pretty, erratic, queer and inspirational," Feder says. "Kate is a shape shifter. Her art, her very existence call into question societal norms – as she engages the world through her work, her queerness and gender identity."
Bornstein and Feder first met in 2006 when Bornstein was a guest on the show "Gay USA" where Feder was Technical Director. In 2007, Feder interviewed Bornstein for a film titled "When the Dust Settles." Even though Bornstein did not play a role in the final film their relationship blossomed after Bornstein watched Feder's critically acclaimed documentary "Boy I Am." Feder's previous documentary tapped into the emotionally charged subject of transgender issues in the lesbian community.
"This is a really important film," Feder says. "It's part of our history and it needs to be out there."
For more information, to set up an interview or for high-resolution photographs from the film and of the crew, please contact Sam Feder at queerandpleasant(at)gmail(dot)com.