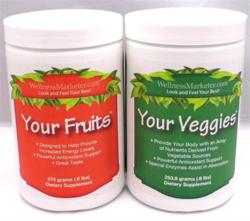 Finally something healthy and tasty!
(PRWEB) May 31, 2012
Your Fruits™ and Your Veggies™, new unique and easy to use health supplements offering supreme nutritional benefits, are now available at http://www.WellnessMarketer.com.
The supplements, designed to help consumers meet daily fruit and vegetable intake, help boost energy levels and provide powerful antioxidant support.
They also just happen to taste great.
"One question many ask themselves: why do healthy things never taste great? Couldn't they taste delicious and sweet? Finally, there is Your Fruits™ and Your Veggies™. As the name implies, they are a great mix of fruits and vegetables, respectively... So they're packed full of healthy vitamins and minerals," said WellnessMarketer President Gary Weber. "The best part? Both include Stevia, a natural sweetener, for a delicious and sweet taste. Finally something healthy and tasty!"
According to Weber, a popular request from WellnessMarketer customers has been a green "Superfood" that also tastes great and dissolves easy.
With the addition of natural sweetener Stevia, Your Fruits™ and Your Veggies™ solves that issue. The supplements also have an added bonus of being manufactured in the United States with fruits and vegetables grown in the United States.
"Another problem I had in the past were supplements that contained ingredients from other countries. Sanitary standards and food safety concern me when considering supplements," said Weber. " I am pleased to report that Your Fruits™ and Your Veggies™ are made for people like us... Who want delicious nutrition grown right here in the USA. This gives me a good feeling when I prepare my morning drink."
The Your Fruits™ and Your Veggies™ supplements can be purchased at http://www.WellnessMarketer.com.
About WellnessMarketer
WellnessMarketer.com is a family-owned company that has been selling alternative health and wellness-related products online since 1999. It is their goal to provide their customers with products of superior quality that are designed to help in the pursuit of a healthy, balanced lifestyle. They thoroughly examine and test every product to ensure they provide and uphold their extraordinary customer service. Constant site improvements and pleasant shopping experiences turn shoppers into customers for life.