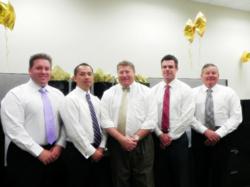 At Bisnar | Chase, we recognize that it's the skill and dedication of our associate attorneys, and their commitment to our clients, that wins the vast majority of our cases."
Newport Beach, CA (PRWEB) May 31, 2012
Bisnar | Chase Personal Injury Attorneys (http://www.BestAttorney.com) today honored the firm's award-winning personal injury attorneys with its second annual Associates Day Celebration. Attorneys Scott Ritsema, Jerusalem Beligan, J. Michael McClure, H. Gavin Long and Travis Siegel were honored by the firm's staff and partners with a breakfast and appreciation ceremony at their Newport Beach, California offices early this morning.
John Bisnar, law veteran and founder of Bisnar | Chase, says Associates Day was created to recognize the firm's associate attorneys and the important work they do when fighting for the rights of personal injury clients.
"Associate attorneys are the front line in the war for 'justice for all' when it comes to regular people fighting the mega defense law firms of Corporate America, insurance companies and governmental agencies," said Bisnar. "In our industry, partners usually get all the glory. At Bisnar | Chase, we recognize that it's the skill and dedication of our associate attorneys, and their commitment to our clients, that wins the vast majority of our cases."
Bisnar said today's honorees are some of the most experienced and successful that personal injury law has to offer.

Formerly from Michigan, Scott Ritsema is known as a bulldog plaintiff's attorney who fights for the rights of the seriously injured. Scott has litigated 12 trials to verdict and has conducted over 100 arbitrations to conclusion. He was one of the attorneys in last year's $24.7 million dollar win over an auto parts manufacturer for a defective part failure that rendered a woman a quadriplegic.
Ritsema was admitted to the California Bar in 1988 – the same year in which he won the Order of the Coif Award.
Jerusalem Beligan, a southern California high school football star, followed in his father's footsteps to become a lawyer. Since joining Bisnar | Chase Personal Injury Attorneys, he has become one of the firm's winningest associates due to his tough-as-nails approach that has resulted in millions of dollars in wage and hour case recoveries for California workers wronged by their employers.
Beligan graduated magna cum laude from the University of California, Riverside in 1997. He obtained his Juris Doctor from Southwestern University School of Law in 2000 and passed the California state bar that same year, at the age of 25.
A Connecticut native, J. Michael McClure has tried over 35 jury trials to verdict, has won numerous multi-million dollar personal injury cases and is a member of the prestigious American Board of Trial Advocates (ABOTA).
In 1986, McClure earned his Juris Doctor degree and passed the California State Bar. He has served on the Bay Harbor Hospital Board of Trustees, as a Judicial Arbitrator for Los Angeles County since 1992 and as a presenter at a "Masters in Trial" presentation for The American Board of Trial Advocates.
H. Gavin Long was an exceptional high school football player for Servite High School who went on to play football at USC. He then began his law career working for renowned trial attorney, Herbert Hafif.
Long has an extensive jury trial background in cases involving everything from murder to fraud to medical malpractice in both state and federal courts, as well as well as prosecuting class action and mass tort litigation. He has tried 18 civil and criminal jury trials.
Long graduated from the University of Southern California in 1996 and from Whittier Law School in 1999 where he earned American Jurisprudence Awards for the study of Torts and Evidence.
"Throughout my career, I've never worked for a firm so generous or appreciative," said Long. "Today's event was very heartfelt, including the kind words of encouragement from other staff members. The truth is, we're very appreciative of their hard work and support too. All in all, it was an amazing day."
New to the Bisnar | Chase team but not new to personal injury law, Oklahoma native Travis Siegel started his law career by defending physicians in medical malpractice lawsuits before realizing his true passion as a plaintiff's attorney representing people injured by the negligence of others.
Siegel was a high school All-State baseball player before being drafted to the Pittsburgh Pirates in 1995. He attended Oklahoma City University where he was named Student of the Year in 1999. He received his Juris Doctorate from the University of Oklahoma School of Law and graduated as a member of the Dean's Honor Roll in 2002.
He has tried a variety of cases to verdict and has helped his clients receive millions of dollars in compensation for their injuries.
"It makes me proud to lead such an experienced, successful and dedicated group of associate attorneys," said Brian Chase, partner at Bisnar | Chase. "Not only does our firm benefit from having some of the nation's most talented personal injury attorneys on our team, our clients benefit from unparalleled representation."
About Bisnar | Chase
The Bisnar | Chase personal injury law firm represents people throughout the country who have been very seriously injured or lost a family member due to an accident, defective product or negligence. The law firm has won a wide variety of challenging cases against careless drivers, corporate giants, drug and medical device makers, insurance companies and negligent governmental agencies. For more information, please visit http://www.BestAttorney.com.