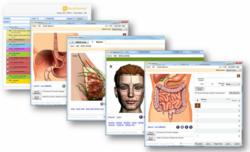 LKConnect enables clean, accurate requisitions in under 60 seconds. It is the fastest way to send a clean order with multiple biopsies to laboratories, allowing physician offices to work more efficiently. - Lior Hod, President, ELLKAY, LLC.
Teaneck, NJ (PRWEB) June 05, 2012
ELLKAY, LLC, the leading provider of point-and-click anatomical body-imaging software, now offers LKConnect for OB/GYN, Gastroenterology and Urology in addition to LKConnect for Dermatology. LKConnect has garnered rave reviews from laboratory professionals and physicians alike for its ability to streamline workflow and improve laboratory requisition accuracy.
Compatible with more than 450 practice management and electronic medical record software systems (PM/EMR), the feature-rich LKConnect enables providers to create new requisitions for a patient, seamlessly retrieving needed insurance and demographic data from their PM/EMR. By eliminating manual transcription, potential errors are reduced while increasing efficiency.
Based on the overwhelming positive feedback from dermatologists using the first product released under the LKConnect umbrella: LKConnect for Dermatology (made available in 2010), ELLKAY has since released LKConnect for OB/GYN, GI and Urology professionals nation-wide. Each LKConnect product shares the same proven technology, functionality, architecture, and, most importantly, the same intuitive user graphical interface; however, each is customized to its medical specialty providing flexible customization options for individual practices.
Why it works: Providers need to request tests from laboratories. Traditionally, providers have had to copy information stored in their PM/EMR onto a requisition form, then write out directions for the lab to perform the tests required. This process both takes time and oftentimes results in requisition forms that are not complete, accurate or legible; which in turn creates delays in getting results and ultimately delays in getting paid for work done. LKConnect streamlines the process of generating requisitions.
LKConnect offers a fully integrated suite for recording and printing laboratory-customized requisitions with an unlimited number of biopsy sites, diagnoses, related treatments, images, and photographs, as well as for managing an interactive log with complete requisition history, all complying with HIPAA standards of medical record privacy.
Utilizing the feature-rich LKConnect, a provider creates a new requisition for a patient, transparently retrieving the patient's demographic and insurance data from the physician's PM/EMR. This eliminates the need for manual transcribing; thus, minimizing potential errors. Since LKConnect is able to connect to 99% of available practice management systems, chances are that it can be implemented in the provider's office as a 'plug-and-play' system.
Selecting a biopsy site is as easy as pointing and clicking a specific point on the LKBodyMap. Each requisition allows for as many biopsy sites as necessary. The physician can select "rule outs" and other related details from pre-configured lists, and can customize those lists or add data manually. Selected site images and site photographs are stored in the system and are easily viewed along with a diagnosis log, which captures the history of all requisitions, diagnoses, and treatments.
LKConnect is an integrated combination of two software components that have been implemented in over 20,000 physician offices that connect practice management systems with laboratories: LKPrint, a Windows-based requisition-generating component that retrieves patient information from the provider's PM, and a Web-based component for managing the physician's interactive logbook with history of all recorded requisitions.