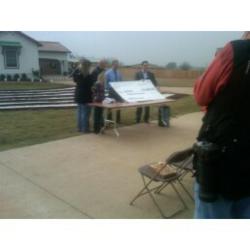 "Having served two tours in Iraq, I was compelled to do something to help SSgt Harris".
Dr. Steven J. Cyr, M.D., FAAOS
San Antonio, TX (PRWEB) June 20, 2012
When the founder and President of the Orthopaedic and Spine Institute discovered Extreme Makeover:Home Edition was coming to the San Antonio, Texas, area to build a home for a disabled Iraqi War Veteran, Dr. Steven J. Cyr, M.D., FAAOS decided he needed to help in some way.
Dr. Cyr served two tours of duty in Iraq as an orthopaedic surgeon, and felt compelled to do something to help SSgt Shiloh Harris, the recipient of the new Extreme Makeover home. OSI participated by donating time, services, and refreshments. In an effort to ease the pain of the more than 2,000 volunteers, 400 vendors and trades, and 75 EMHE workers, the masseuse provided back and neck rubs for anyone needing a break from the grueling seven-day build.
OSI worked closely with EMHE and together, they found a unique way to honor the injured soldier. OSI purchased two Mobile Entertainment Gaming Systems (MEGS) in SSgt Harris' honor and they were given to the United Services Organization (USO). Ms. Sharry Jensen was on hand at the press conference to receive the donation, but had already shipped the two MEGS into the Afghani War zone for the enjoyment of those serving their Country.
Dr. Joel B. Nilsson, M.D., FAAOS, also a board certified orthopaedic surgeon with OSI, served together in the Iraqi War zone with Dr. Cyr, and work together in the orthopaedic practice. Both were present at the press conference held in front of the new home on January 22, 2012, a day after the "reveal" of the home by EMHE for SSgt Harris and his family.
The Orthopaedic and Spine Institute offers a full range of medically supervised weight loss management, pain management, minimally invasive surgical procedures, and the full range of complex orthopaedic, neck, back and spine procedures through an integrative approach to treating orthopaedic injury and disease.
About ABC-TV's "Extreme Makeover: Home Edition" - The Emmy award winning reality program "Extreme Makeover: Home Edition," now in its 9th season, is produced by Endemol USA, a division of Endemol Holding. It's executive-produced by Brady Connell and George Verschoor. David Goldberg is Chairman, Endemol North America.