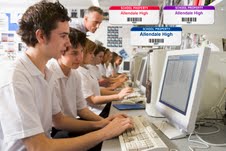 "Though these products are industrial, they were designed with the intent to help schools recover assets and get their full share of available funding," said Daniel Male, Manager of MyAssetTag.com.
Brooklyn, NY (PRWEB) June 13, 2012
MyAssetTag.com, America's largest online supplier of asset tags, is announcing a special promotion just for schools on school asset tags. Students, faculty, and schools waste too much money on lost and damaged assets. Using school asset tags is a huge step in managing and securing equipment, and the online store is offering 50% discounts for collaborative schools and non-profit organizations.
Asset tags and labels are excellent ways to organize property and thwart vandals. A Quality Education Data Survey shows that schools shoulder the burden of paying up to $15 billion annually for asset losses and damages, or $306 per child per year. Losing or damaging hi-tech equipment such as PCs or laptops costs $32 per student. Therefore, investing in asset tags to enforce security saves people from the hassle of losing money and expensive items.
MyAssetTag's best-selling Metal Asset Tags have been touted as the "Cadillac" of asset barcode tags. The tags are made from AlumiGuard™ metal, with the print embedded within aluminum with the high-bond adhesive fusing permanently to most surfaces. Even though the tags have a standard barcode, shoppers can still put a personal stamp on tags. The site makes it effortless to select a size, design, change color, and personalize numbering. The best part is that the asset tags are the best quality products for phenomenal prices, at $1.05 per tag and the ability to upload a personal logo, add extra colors for printing, or add custom numbers for free.
Students and faculty will make great use of the asset tags and labels specifically designed for schools. The customization wizard on every type of tag allows users to print the name of the schools and even add a school mascot for free. Laminated plastic asset tags stay strong against chemicals, abrasion, and weather. Tamper Proof Asset Labels self-destruct or read "VOID" when anyone tries to remove them, ideal for catching vandals. For those on a budget, EconoGuard Asset Labels are just fifteen cents a tag (upon purchasing a pack of 1000 tags).
Even though MyAssetTag is loaded with discounts, the site encourages schools and non-profit organizations to take advantage of a new promotion. "Though these products are industrial, they were designed with the intent to help schools recover assets and get their full share of available funding," said Daniel Male, Manager of MyAssetTag.com. "Since we collaborate with schools and non-profits, we are offering a 50% discount if these organizations blog about us." All shoppers love bargains, but buying asset tags half off leaves customers with more money for other purchases.
MyAssetTag makes creating and buying school asset tags a painless and inexpensive process. For more information, visit http://www.myassettag.com/school-asset-tags.
About MyAssetTag.com
MyAssetTag is the Web's best source for asset labels and tags to organize inventory. These tags are durable and made from the highest quality material. Shoppers can create their own asset tag in minutes.
About SmartSign
SmartSign is one of America's fastest growing e-commerce companies and parent of MyAssetTag.com, http://www.MyParkingSign.com, as well as over 50 other sites.
Traditionally, signs with the right message have been hard-to-find, hard-to-design and hard-to-order. By positioning "Signs as Solutions," SmartSign has taken an entirely different approach. Through highly targeted, yet content-rich and authoritative sites, the company provides specific solutions to specific problems – such as customizing your asset tag. "We take the agony out of finding and ordering your perfect sign or tag" – Blair Brewster, SmartSign founder. Couple this with fast and free shipping, 3M warrantied signs that outlast fast-fading ink jet signs from competitors, the web's largest range of designs and a best price guarantee, it is easy to see why SmartSign has grown so quickly.