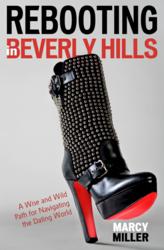 'This book is not about meeting Mr. Right,' says Miller. 'It's about becoming so comfortable with yourself and happy with your own life that you don't need a man to save you or make you happy.'
Los Angeles, CA (PRWEB) June 12, 2012
On June 12, 2012, Bancroft Press will release Marcy Miller's Rebooting in Beverly Hills: A Wise and Wild Path for Navigating the Dating World. Touted as Sex and the City for the next generation, Miller's memoir fills the void for women who are thrust back into the dating scene and need to figure out the rules for romance and sex in the complex world of "hook ups" and "friends with benefits."
Miller's story begins as her third marriage is falling apart and she is overcoming the devastation and betrayal of a cheating husband. Instead of wallowing in heartbreak and pining away for her lost life, Miller set outs on a journey requiring resilience and hope. With honesty and humor she chronicles her quest to find the perfect male companion to share the next chapter of her life, passing along the many lessons she learns along the way.
Miller gathers her Southern Californian guru dating team--a spiritualist, a psychic, a gynecologist, an e-dating expert, and the requisite GBF (gay best friend)--as she prepares to take on love and sex in the twenty first century replete with fix-ups, match-makers and internet dating.
"This book is not about meeting Mr. Right," says Miller. "It's about becoming so comfortable with yourself and happy with your own life that you don't need a man to save you or make you happy. When you reach that place and realize what you're looking for in a mate, you're in a non-needy place and only then will you be ready for a real relationship."
As her memoir reveals, getting ready for a real relationship requires a sense of humor, perseverance, and courage. Miller openly reveals that one of her greatest challenges was regaining confidence in her body which had been left scarred by a mastectomy and reconstructive surgery after her battle against breast cancer in 2005.
Jennifer Dynof, president of Rob Lowe's LoweProfile, said of Rebooting in Beverly Hills, "Not many women can pull off a memoir that is, at the same time, so revealing, so funny and so helpful."
Marcy Miller is a retired management labor lawyer who practiced law in Washington D.C., Baltimore and New York City. She published widely in her field and was a monthly columnist for several local and national publications.
When not exploring the highs and lows of relationships, whether in life or through her blog entries for The Huffington Post, Miller is a successful Hollywood jewelry designer. She lives with her new husband in Beverly Hills.
Bancroft Press has been a leading indie publisher for twenty years.