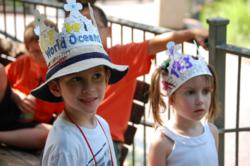 Aquariums and zoos are unmatched in allowing families to connect with wildlife, learn about nature, and become involved in protecting our oceans for the future
Silver Spring, MD (PRWEB) June 08, 2012
As leaders in ocean conservation education and science, aquariums and zoos accredited by the Association of Zoos & Aquariums (AZA) invite the public to dive in to ocean conservation on June 8 – World Oceans Day.
"AZA-accredited aquariums and zoos are actively engaging millions of people in ocean issues and making conservation action attainable for families everywhere," said AZA Senior Vice President for Conservation & Education, Dr. Paul Boyle. "Aquariums and zoos are unmatched in allowing families to connect with wildlife, learn about nature, and become involved in protecting our oceans for the future."
The National Research Council has reported that most science-based learning happens outside the classroom. AZA-accredited aquariums and zoos are leaders in reaching 175 million people every year with important, science-based information about ocean conservation. Recent public opinion research conducted by AZA's partner in ocean conservation, The Ocean Project, indicates that the public trusts and looks to aquariums, zoos, and museums to learn more about the issues and ways each person can take action to help our ocean.
Top 10 Things You Can Do to Help The Oceans:
Visit an AZA-accredited Aquarium or Zoo - Every time you visit your local aquarium or zoo you are helping to support conservation projects locally and worldwide. Ask staff how you can help contribute to conservation. Find the aquarium or zoo near you.
Donate Your Time And Money – Volunteer to help out the AZA-accredited aquarium or zoo near you, participate in a beach clean up, or attend a similar ocean saving event. Your commitment is the most valuable thing you can contribute to help conserve the ocean.
Tell Your Friends! – Educate others about the importance of ocean conservation and what they can do to help. You can start by liking the Association of Zoos and Aquariums on Facebook.
Make Smart Seafood Choices – The seafood industry, through overfishing certain species, creating bycatch, causing habitat damage, and with the establishment of fish farms, has created problems but can also be part of the solution. You can make a difference with your purchasing power by buying sustainable harvested seafood. Learn more with the Monterey Bay Aquarium's Seafood Watch program or Shedd Aquarium's Right Bite.
Conserve Water – Although many North Americans have easy, regular access to water, it is a scarce resource in many parts of the world and being used up more quickly than it can be naturally replenished. Also, the less water we use, the less runoff and wastewater will pollute our ocean. Fix leaky faucets, turn off the tap when you brush your teeth, and be sure to keep your showers short.
Reduce Your Carbon Footprint – Energy we use and emissions we create can contribute to global climate change and have adverse affects on the ocean, such as acidification, sea level rise and threats to marine mammals like polar bears. Leave your car at home and opt for public transportation, or, where possible, cycle to your destination. Use energy saving light bulbs and turn off the lights when you leave a room. Learn how aquariums and zoos are doing their part.
Keep Your Watershed Clean – A watershed is the area of land where rain and snow melt drains downhill into rivers and lakes, and eventually to the sea. Trash and chemicals in a watershed flow to the ocean. Help keep your watershed clean. Don't litter, and dispose of trash properly. Check with your local aquarium or zoo, as many of them lead beach clean up efforts!
Limit Chemical Usage – Chemicals that may find their way into any water source eventually find their way to sea, where they can harm animals and damage ocean habitats. Purchase organic produce, limit chemicals in personal care products and make sure you dispose of oil products safely.
Ditch Plastic – Plastic products harm marine life and habitats. Keep plastics out of the ocean by using reusable bags at the store and reusable bottles for drinks instead of disposable plastic ones. Be sure to recycle any plastics that you do use.
Oppose The Taiji Drive Fishery – Every year in Taiji, Japan, dolphins are slaughtered by local fishermen. AZA-accredited zoos and aquariums are against this painful, inhumane practice. AZA sponsors a campaign to halt Japan's annual dolphin drive called Act for Dolphins which was launched by a coalition of zoo and aquarium professionals and scientists seeking to raise awareness and bring an end to the Taiji slaughter.
AZA invites families who are passionate about education, and interested in learning more about wildlife conservation, to enter the Rhythm of Conservation Sweepstakes.
From April 1st through June 15th, families can enter the Sweepstakes online at the official Rhythm of Conservation Sweepstakes website and return once daily to enter again and learn about a different animal each day. On the site, visitors may also browse interactive educational activities and lessons about conservation.
About AZA
Founded in 1924, the Association of Zoos and Aquariums is a nonprofit organization dedicated to the advancement of zoos and aquariums in the areas of conservation, education, science, and recreation. Look for the AZA logo whenever you visit a zoo or aquarium as your assurance that you are supporting a facility dedicated to providing excellent care for animals, a great experience for you, and a better future for all living things. The AZA is a leader in global wildlife conservation, and your link to helping animals in their native habitats. To learn more, visit http://www.aza.org.