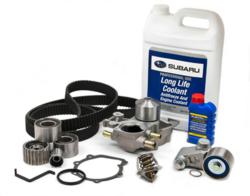 Gates timing components and water pumps are environmentally-friendly solutions that help keep vehicles on the road
Old Saybrook, CN (PRWEB) June 12, 2012
FCP CEO, Scott Drozd, announced today that the company will import a large number of Gates Timing Belt and Water Pump Kits for sale through the FCP eCommerce websites FCP Euro and FCP Import that meet or exceed tough OE performance specifications for the FCP brand. Gates Timing Belt and Water Pump kits are recognized in the industry for their durability and superior quality. FCP will also be carrying Gates Volvo timing belts and Subaru water pumps, as well as Gates parts for a variety of other major European and Import auto makes.
When making the announcement, CEO Scott Drozd noted Gates's century-long history of providing high-quality automotive products and services, stating, "Whether it's for a new build or replacement service, Gates timing components and water pumps are environmentally-friendly solutions that help keep vehicles on the road. This is something we at FCP pride ourselves on demonstrating in videos such as our Subaru timing belt replacement video, for example."
Gates Timing Belts and Water Pumps are designed to work seamlessly with Mercedes , Audi, Volvo, BMW, Volkswagen, Toyota, Nissan, Honda, Hyundai, Subaru, Kia, and other European and Asian import cars. They are engineered to the utmost standards of quality in the automotive industry.
By directly importing Gates Timing Belt and Water Pumps, FCP Euro and FCP Import can make certain that its customers benefit from the best possible prices when purchasing these fantastic timing belts and water pump kits. ASE certified staff members are available to assist customers in selecting and installing the parts sold through the FCP Euro and FCP Import websites. This commitment to customer service allows FCP Euro and FCP Import to provide the best possible shopping experience for customers who visit the company's online auto parts store.
About FCP Euro and FCP Import
Both FCP Euro and FCP Import were established in 1986 and are family-owned and operated businesses dedicated to providing the highest quality OEM auto parts at the lowest prices in the automotive marketplace. FCP Euro delivers BMW, Volvo, Volkswagen, Audi, Mercedes and Saab auto parts to its customers throughout the country and can also provide a full range of Asian import auto parts through its sister website FCP Import for makes such as Toyota, Honda, Nissan and Subaru. FCP Euro and FCP Import order their parts direct from the manufacturer and ship from their warehouse in Old Saybrook, Connecticut. This allows FCP to pass the savings along to their customers and provide them with the best possible deals on the full range of European and import auto parts.