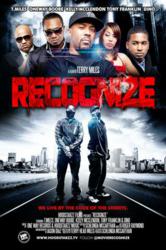 #movierecognize
(PRWEB) June 16, 2012
The film industry has been very productive in the south, especially in Atlanta. "Camera ready" is the new term to define the state of Georgia. According to the Los Angeles Times, Hollywood has Georgia on its mind. After boosting its film incentive program in 2008, Georgia has emerged among the top five states in the country for film production as stated in the article. Georgia has helped productions such as Craig Brewer's remake of Footloose, The Three Stooges, and Due Date starring Zach Galifianaki. With financial incentives lower than most states, film and television producers are taking advantage of this by coming to the Peach State and creating movies for our nation to see. Along with those film and television producers, Hoodstarzz Films come in with their brand new urban-based film, Recognize. Starring Director and Writer T. Miles, Recognize will premier this summer July 2012 in Decatur, Georgia.
Alongside Director T. Miles, Executive Producer Schlonda McCarthan states, "Hoodstarzz is on the rise. We are an independent film company giving minorities an opportunity in this business." With production resources at an affordable price, films made in Georgia have generated a lucrative amount of revenue and now the question is, "Has Atlanta become the new Hollywood?". Tyler Perry's Productions, BET's The Game, The Blind Side, The Change Up, and now up and coming film company Hoodstarzz Films is playing their part. With an online web show, to live showcases and artist development, and now a major movie premier this summer, Hoodstarzz Films is making sure they have the starring role in this industry!
Georgia's Film and Television Industry is the place to get your production out now. Hoodstarzz Films has its advantage by being a film company based in the heart of downtown Atlanta. "Recognize is only the beginning of what this company has to offer. We want to be heard and seen. Make room because we are here," exclaims McCarthan. Be on the lookout, Recognize is coming soon. Follow Hoodstarzz Films @Hoodstarzztv @movierecognize and like them on Facebook!