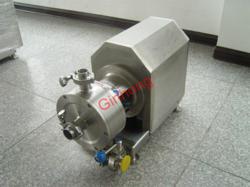 Jinhu, Jiangsu Province (PRWEB) June 02, 2012
Ginhong is set to begin shipping its high shear mixers used for making petroleum jelly to East Africa. This particular high shear mixer is relatively simple and straightforward in its approach. The company has been diligently planning the proper shipping procedures that will be used to get these mixers into the hands of the cosmetic company located in Tanga, Tanzania.
Maersk will be picking up the 7000L Vaseline mixers from Ginhong. They will be moved directly to the facility in Tanga, Tanania. The customer first contacted Ginhong about these particular mixers. They ordered the petroleum mixers, a small lab mixer, the RB-50 vacuum emulsifier mixer and a CG-3000 storage tank for their cosmetic company in East Africa. These high shear mixers will be used in their factory to make petroleum jelly and other types of cosmetics.
The 7T high shear mixers are equipped with Mettler-Toledo load cells and also have complete control systems. The Vaseline mixers are shipped using a well qualified company who can fasten the mixers onto pallets so that they are not damaged in the process. Once the mixers are securely attached to the pallet, it is packed with PU foam so that they are firmly in place. Steel wires are then used to secure the mixers tightly to the pallets. The most difficult task is to secure the high speed dispersers which are inside the Vaseline mixers.
Ginhong carries a full line of mixers, emulsifiers and tanks. To view available products customers can visit the company's website at http://www.ginhong.com/.
About Ginhong
The Chinese company Ginhong was founded and located in Jinhu, Jiangsu Province. The company began to grow and soon had to relocate in a larger facility. The company designs, manufactures and engineers various types of mixers. Their products include high shear mixers, mixer machines, emulsifying mixers and multi-shaft mixers. They also provide storage tanks. Their customers span the globe as they can meet domestic and international customer's needs. Ginhong meets international quality standards and have received government certifications.