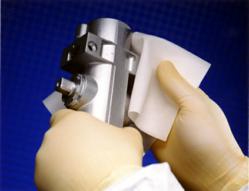 Great Barrington, MA (PRWEB) June 05, 2012
Berkshire Corporation, a manufacturer of contamination control products for cleanroom and critical environments, introduces Durx® 570, a lighter weight version of the polyester/cellulose cleanroom nonwoven wiper in the Durx® family.
Durx® 570 is suitable for cleanroom applications (ISO class 5-8) in pharmaceutical, medical device, electronics, laboratory, semiconductor, and industrial controlled environments. Durx® 570 is an ideal choice as a general purpose wiper. It is manufactured without the use of binders or surfactants, ion levels and organic extractables remain low. Product can be autoclaved and is chemically compatible with common cleaning and disinfecting solutions.
The Durx® 570 wiper is available as a dry wiper in two different sizes, 9x9 inch and 12x12 inch flat packs with 300 sheets per pack and 150 sheets per pack packaging configurations. Product evaluation samples are available immediately through contacting Berkshire Corporation or visiting the Berkshire website.
….
About Berkshire Corporation
Berkshire is the global leader in the engineering and manufacturing of contamination control products for cleanrooms and critical environments worldwide. Global technical specialists assess specific process needs and bring qualified solutions to the most critical application. For more information, visit the company's website at http://www.berkshire.com.
Contact: Berkshire Corporation
Phone:
1.800.242.7000
1.413.528.2602
Fax:
1.336.446.0156
E-mail: csr(at)berkshire(dot)com