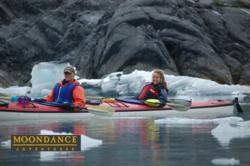 Asheville, NC (PRWEB) June 08, 2012
Beginning June 19th, Moondance Adventures will take a lucky group of teenagers on the adventure of a lifetime. When embarking on the Northern Lights adventure program, teens in ninth grade and above will explore the wilderness of the Alaskan backcountry and participate in kayaking, ice climbing, backpacking and whitewater rafting while they "Leave No Trace" of their presence.
The group will spend 22 days in the pristine wilderness of Alaska, with the trip beginning and ending in Anchorage. Trip dates are June 19 to July 10 and July 12 to August 2.
Moondance Adventures is a travel organization offering summer programs that challenge teens to step outside their comfort zones and achieve more than they ever dreamed possible in the great outdoors. The leadership adventure program is built on the philosophy that challenge builds character and is designed to teach leadership skills amongst an exciting combination of nature, fellowship and fun.
As part of the Moondance Adventures teen summer program, Northern Lights outings depend on both teamwork and individual achievement and teach participants skills such as goal-setting, decision-making and problem-solving, leading to greater self-awareness, self-confidence and personal growth. The group hopes to encourage a sense of purpose and accomplishment that will lead participants to face challenges with courage and move forward into the future with a daring attitude and a spirit of exploration.
Highlights of the Northern Lights summer trip include the following:

Five days of sea kayaking on Prince William Sound
Ice climbing on Matanuska Glacier
Backpacking in the remote Talkeetna Mountain Range
Two days of whitewater rafting on the Chickaloon River
Past program participants such as Anna Hodges of Shreveport, LA, are quick to share their enthusiasm about their Moondance experiences. Regarding her own excursion with the group, Anna says, "Being thrown in a place so different from home pushes your boundaries farther than you thought they could go. Moondance taught me to see my true strength in ways no person or program ever has."
To learn more about Northern Lights and other Moondance adventure programs, visit the Moondance Adventures website at http://www.moondanceadventures.com, or call (800) 832-5229.
About Moondance Adventures:
Founded by Hayes Hitchens in 1996, Moondance Adventures is a teen adventure travel program offering a wide variety of 13-23 day experiences including community service and wilderness-based leadership opportunities. Headquartered in Asheville, NC, Moondance offers 17 co-ed, non competitive teen summer adventure programs for teenagers ages 12-18. Moondance provides fun, education and character-building with each program's curriculum. Moondance has been conducting unique teen summer adventures in many of the finest teen adventure travel areas in the world with courses offered in Africa, Central America, Europe, North America and South America.