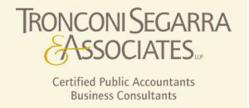 "We are always looking for new ways to connect with our clients..." Jim Segarra
Williamsville, NY (PRWEB) June 12, 2012
Tronconi Segarra & Associates LLP, a leading Certified Public Accounting/business consulting firm offering CPA services and state tax consulting in New York, has launched a new website designed to appeal to both current and potential clients with an easy-to-navigate layout and design.
New features include navigational mega menus, tabbed pages, a blog, and graphical icons that will assist visitors in obtaining a quick overview of the information within the site and allow easy access to information with minimal clicks. Clients of the Firm will have a dedicated page where access to specific tools and resources resides.
The Firm is also expanding its social media presence. In addition to LinkedIn, clients and friends of the Firm will also be able to follow Tronconi Segarra & Associates on Facebook.
Jim Segarra, Firm Managing Partner, welcomes the new website with enthusiasm: "We are always looking for new ways to connect with our clients, business associates and prospective clients, to learn more about how we can help them and understand the issues and events that are important to them. Expanding our social media presence will give us additional ways in which to connect with them, and offer more information that we think will be of value to them based on their feedback. While ideally we like to talk with people face-to-face, we know that's not always possible. Hopefully by expanding our social media channels, we will be connected virtually 24/7."
The new web site will feature expanded information about the services offered by the Firm, including domestic and international tax services, accounting and auditing services, fraud and forensic services, and state and local tax services; and more articles, newsletters, financial tools and resources than ever before. Links to follow the Firm on Facebook and LinkedIn will be featured on each page. The Firm plans to provide followers with periodic updates whenever new articles and newsletters are published by the Firm. News releases about important events such as tax law changes, other regulatory changes and financial happenings will also be shared with LinkedIn and Facebook followers in order to help them stay abreast of changes that may impact their business or personal financial situation.
"One thing we want to make very clear to everyone who chooses to follow Tronconi Segarra & Associates on LinkedIn or Facebook," continued Segarra, "is that we will be very selective about the information we share, and cognizant of the volume of information that we share. We don't want to inundate our followers with information, and we hope our followers will provide us with feedback to let us know whether we're sharing too much, too little or just enough."
To view the new website and to learn more about Tronconi Segarra & Associates, visit http://www.tsacpa.com/. The Firm is headquartered in Williamsville, New York and has additional offices in Niagara Falls and Clarence.
About Tronconi & Segarra Associates:
Since 1985, we have succeeded in providing the best and most appropriate professional accounting, auditing, tax and consulting services to private industry, publicly-traded companies, not-for-profit organizations, governmental entities and individuals in the geographical markets we serve. With 90 members including 50 CPAs, Tronconi Segarra & Associates has the experience and acumen to help clients succeed and achieve their goals at every stage in their business lifecycle.