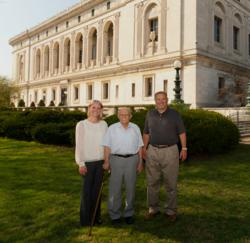 We're honored to have CAM recognize the contribution of our company and family to the construction industry.
Jelane Cashero-Raycraft
Detroit, Mi (PRWEB) June 06, 2012
CAM Magazine recently profiled the three generations of leaders at the Grunwell-Cashero Company and applauded their leadership for guiding the growth of the company for nearly six decades.
"We're honored to have CAM recognize the contribution of our company and family to the construction industry," said Vice President Jelane Cashero-Raycraft.
The article, entitled "The Grunwell-Cashero Company: Past. Present. Future.", tells the story of the family through their outstanding work at buildings around the city, including The Fisher Building, Detroit Main Public Library, St. John's Episcopal Church, and the Ford Piquette Avenue plant, birthplace of the Model T.
Fidel A. Cashero, a member of the Michigan Construction Hall of Fame, laid the foundation for the company that bears his name. His son Scott is President, and granddaughter, Jelane, is Vice President and is assuming more and more of the everyday leadership.
With headquarters in Detroit, and offices in Toledo and Cleveland, Grunwell-Cashero serves clients throughout the Midwest.
Grunwell-Cashero specializes in building restoration, rehabilitation and preventive maintenance. Our skilled craft workers combine traditional practices from the past with the latest industry advances to deliver projects on time and under budget. The quality of our work is best captured by our completed projects and client recommendations. For more information and to review our award-winning portfolio of projects, visit our website http://www.gcbuildingrestoration.com
Capital Letters is a business-to-business marketing company headquartered in Ann Arbor that specializes in the commercial and industrial construction industry. Chris Hippler is the principal strategist and he leads a team that focuses on getting results for clients through all channels, including new media, print, PR, and broadcast.