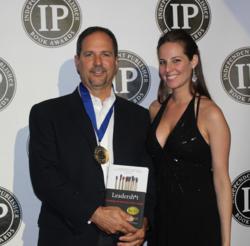 This year's medalists were chosen from 3,907 total entries.
Newport Beach, CA (PRWEB) June 21, 2012
For Immediate Release
Media Contact:
Briege Zeller
Foster Mobley Enterprises
714.628.2900 x113
http://www.fostermobley.com
Dr. Foster Mobley Wins 2012 IPPY Gold Medal for Leadersh*t: Rethinking the True Path to Great Leading
Foster Mobley Enterprises announces Leadersh*t: Rethinking the True Path to Great Leading, a breakthrough book on leadership, has been awarded an Independent Publisher's Association Gold Medal for best 2012 book in the Business/Career/Sales category. The book's author, Dr. Foster Mobley was honored at the 16th Annual IPPY awards ceremony on June 4 at the annual BookExpo America publishing convention in New York. The Independent Publisher Book Awards, known as IPPY Awards, was launched in 1996 as the first unaffiliated awards program open exclusively to independent, university, and self-published titles. Gold, silver and bronze awards are given in 74 national, 22 regional, and five e-book categories annually.
In Leadersh*t Dr. Mobley questions why we have a dearth of exceptional leaders in board rooms, class rooms and locker rooms across the country, despite the 277,000 leadership books in print. Drawing from his 30+ years of experience coaching and developing global leaders in business and sports, Dr. Mobley believes that breakthrough leadership comes by unleashing the talent and potential from within rather than learning a specific leadership program or skill. Through stories and metaphors, Leadersh*t challenges leaders to show up powerfully and build their capacity to lead fully.
In addition to the IPPY award, Dr. Mobley's book has received further national recognition as a finalist for the 2011 Book of the Year award in the Career/Adult Non-Fiction category from ForeWord Reviews, a trade journal devoted to independent publishers.
Dr. Mobley is recognized as a thought leader in the areas of high performance leadership, culture and teamwork. As founder and CEO of The Foster Mobley Group, he has advised hundreds of companies on large scale change and transformational leadership, including some industry leaders like Deloitte, Citicorp, DaVita and Disney. His impact extends to the world of athletics, having also successfully advised several legacy collegiate athletic teams and coaches to peak performance and NCAA championships.
Leadersh*t: Rethinking the True Path to Great Leading is available through Amazon.com or http://www.fostermobley.com. To learn more about this powerful book on leading or about Dr. Mobley and his availability as a keynote speaker, visit the Foster Mobley Enterprises website @http://www.fostermobley.com.