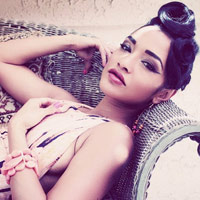 Los Angeles based fashion photographer Tatiana Gerusova puts a spotlight on the essence of sensuality in her artwork
(PRWEB) June 05, 2012
Tatiana Gerusova is a professional freelance fashion photographer in Los Angeles. Her work is quickly gaining popularity being featured by VOGUE Italia's website and displayed as a main feature at MOPLA Show by Smashbox Studios - a major Los Angeles photography studio, always full of the most sought-after photographers, artists, celebrities, and models. Tatiana has been passionate about art her entire life. She became interested in photography while assisting her father in Russia nearly 20 years ago.
Today, Tatiana works closely with models, actors, singers, dancers, casting directors, entertainment agencies and other successful companies in Los Angeles, offering cutting edge fashion/editorial photography, portraits and photo retouching. Tatiana is also available for weddings, baby portraits, professional headshots, and other events. More information can be found online at http://www.TatianaGerusova.com.
About PartyPOP.com: the largest party, wedding and event planning online network:
Before the Internet era, the professionals at PartyPOP.com were successful hands-on party planners and special event producers. For more than a decade PartyPOP has translated 30 years of party planning experience onto the Internet. Millions of vendors are listed on the network consisting of 60+ websites and tens of millions of customers have used the network to plan their parties, weddings and events. PartyPOP.com also provides party and event related tips, themes and ideas, as well as a free full wedding planning software called Seating Arrangement.
About Free Printed Invitations by PartyPOP.com:
PartyPOP provides every bride and groom across the USA, Canada and the U.K. with free beautifully designed wedding invitations printed on 80lbs card stock paper with matching envelopes and wedding website. Even door to door shipping is included at no cost. There are no hidden fees, no obligations to buy and no strings attached!