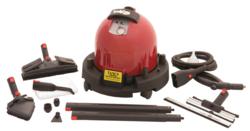 Advanced Vapor Technologies, LLC of Everett, Washington offers a proven, effective method for killing C. parvo without toxic chemistries.
Everett, WA (PRWEB) June 12, 2012
Advanced Vapor Technologies has announced the results of TANCS steam vapor sanitation for protecting pets from Canine parvovirus disease.
Tests show that steam vapor cleaning using TANCS® sanitizes surfaces at a higher effective level than traditional cleaning and is a proven method for killing microbes. In tests done by Microbiotest and Nelson Laboratories for Advanced Vapor Technologies, a 7-second application of TANCS® resulted in a 5-7 log reduction of a number of organisms, including Canine parvovirus and the Avian Flu virus.
Canine parvovirus, an extremely contagious disease, is currently the most common infectious disease affecting dogs in America. Advanced Vapor Technologies, LLC of Everett, Washington offers a proven, effective method for killing C. parvo without toxic chemistries.
While dogs older than one year typically do not contract C. parvo, puppies are especially vulnerable, as are unvaccinated dogs. Infected dogs shed large amounts of the virus in the first two weeks after exposure, so protective measures and thorough surface disinfection are needed to protect uninfected animals.
C. parvo is widespread, hard to destroy and persists in an environment that has not been properly cleaned and disinfected. Indoors, the virus can be viable for up to one month. Outdoors, it can last in shaded areas for seven months and sunny areas for five months. It is also resistant to many household disinfectants. (Note: Though the use of bleach is common in kennel environments, it can be toxic, corrosive and has been linked to asthma in humans and reproductive problems in dogs.)
A safe and yet effective approach for dealing with this problem is the TANCS® equipped steam vapor sanitation system. Steam vapor cleaning employs low-pressure (15-20 PSI) steam ranging from 215-230 degrees to clean, sanitize and deodorize a variety of surfaces more thoroughly than traditional cleaning methods. New technology in steam vapor systems, Thermal Accelerated Nano Crystal Sanitation (TANCS ®) converts ionic minerals in tap water into millions of energized nano-crystals that enable steam vapor to quickly destroy the C. parvo virus.
TANCS® is an ideal solution because it adheres to Green Cleaning principles, can sanitize carpets and non-colorfast items in addition to hard surfaces, and offers labor and cost savings. It also protects residents, workers, pets, and indoor environments from chemical exposure, and uses only a little water, reducing dry time. Steam vapor also penetrates areas that traditional cleaning methods cannot reach.
With the highly infectious and hardy C. parvovirus ever present, pet owners and those in the pet industry must be careful in ensuring pet environments are clean and sanitary. TANCS® steam vapor is an easy, safe, efficient and cost-effective way to protect residents, workers, pets, and the indoor environment.
About Advanced Vapor Technologies (AVT)
Seattle-area based Advanced Vapor Technologies (AVT) provides state-of-the-art steam vapor sanitation systems that enable deep cleaning and disinfection without harmful or corrosive chemicals. With scientifically-proven TANCS® technology carrying an EPA establishment number, AVT TANCS steam vapor units have been tested and proven to disinfect surfaces in much less time and with greater safety and efficacy than typical EPA-registered chemical disinfectants.