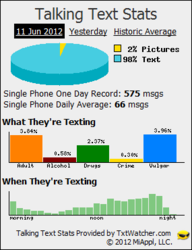 Texting is the single most dominant means of communications for adolescents and teens today, by far. To keep kids out of trouble, parents need to know what their kids are texting.
Boston, MA (PRWEB) June 12, 2012
TxtWatcher today announced the availability of "Talking Text Stats", a set of real-time statistics highlighting teen texting practices. The statistics are available online at http://www.txtwatcher.com, and profile texting trends based on data aggregated from mobile phones monitored by TxtWatcher's Parental Text Message Monitoring service. The statistics include the following:

Number of texts - the average and peak number of texts sent and received over a 24 hour period
24 hour traffic trend - aggregate view of texting traffic over a 24 hour period
Picture content - the percentage of messages that are text vs pictures
Sensitive content - the percentage of text messages containing references to sex, alcohol, drugs, crime, or profanity.
For websites that are interested in displaying Talking Text Stats on their own site, TxtWatcher has provided instructions for embedding the statistics at http://www.txtwatcher.com/statistics.
"Texting is the single most dominant means of communication for adolescents and teens today, by far," said John DiTroia, Chief Technical Officer of TxtWatcher. "We have a unique perspective into the trends and practices of teens and adolescents who text, by virtue of our message monitoring service and patent-pending translation technology. We want to share these insights with our community of concerned parents, and help them truly understand what their kids are saying and hearing online."
About TxtWatcher
TxtWatcher was founded by parents who were lucky enough to intercept some of their children's text conversations concerning illicit activities that could have been life altering. Based on this experience, TxtWatcher was born with a vision of providing a service that helps parents understand what their children are communicating via text messaging. By monitoring their children's most common form of communication, TxtWatcher's customers find the service to be a powerful parental tool and it gives them peace of mind.
The TxtWatcher Parental Text Message Monitoring service silently monitors Android smartphones for sent and received text messages, scanning and alerting parents to behaviors such as cyber-bullying, sexting, or alcohol and drug use. At the heart of TxtWatcher is a comprehensive, patent-pending translation engine called "SmartAlec" that is constantly evolving to "break the text code". Currently, TxtWatcher.com is installed on thousands of mobiles phones tracking hundreds of thousands of text messages per month.
For additional information on how TxtWatcher can help you monitor your children's text messages, and to install the free Parental Text Message Monitoring app please visit: http://www.txtwatcher.com, or you can find us at: http://www.facebook.com/talkingtext or follow us on Twitter @txtwatcher.