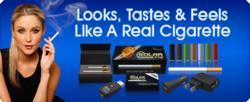 Get access to your own personal smoking buddy to help you stay committed and offer the VIP service you deserve while making the switch to a better lifestyle.
Hollywood, FL (PRWEB) June 01, 2012
SolarCigarette.com introduced their smokeless electronic cigarette to their customers and has become a hot topic in the smoking community. One of the reasons why these smokeless cigarettes are attracting so much attention is because they are giving smokers the same sensation of smoking real cigarettes but without the use of tobacco and even a lighter. They are battery operated cigarettes.
Now Solar Cigarette has introduced a wide variety of different flavors to choose from such as vanilla, strawberry, menthol, and regular tobacco flavor but those are just a few. Solar Cigarette has also introduced their vitamin pack refill cartridges as well.
"Smokers of the Solar Cigarette can now choose from vitamin B, Ginseng, and other types of flavors that deliver vitamins to the body rather than nicotine but still gives smokers the same sensation of smoking. These vitamin packs also help smokers lose weight and keep the weight
off after they have quit smoking tobacco cigarettes."
Read more at: http://www.solarcigarette.com
A representative of SolarCigarette.com states that Our Solar Cigarette Ginseng pack is one of the most beneficial flavors. It is also used to reduce the effects of stress, improve performance, boost energy levels, enhance memory, and stimulate the immune system. Oriental medicine has
deemed it a necessary element in all their prescriptions, and regard it as prevention and a cure. It is said to remove both mental and bodily fatigue, treat pulmonary problems, dissolve tumors and reduce the effects of age.
Learn more about Solar Cigarette Vitamin Packs