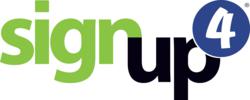 We have heard requests for more robust calendar features and we are proud to have followed through.
Atlanta, Ga (PRWEB) June 11, 2012
Gain access to all meetings and events at a glance with the new SignUp4 Calendar. Users can manage multiple calendars to provide visibility to attendees of upcoming activities that are relevant to them. They can learn where they are taking place, get a description, and then proceed to the customized event website. The calendar supports branding and is highly customizable. Other features include security, uploading additional important events and dates, linking dates into attendees address books, and color coded meeting types on the calendar.
"We have heard requests for more robust calendar features and we are proud to have followed through," stated Matt Hodge, VP of Sales at SignUp4. "The positive feedback we have received from our clients confirms that we've met their expectations and our goals for continuous improvement."
SignUp4's new Calendar is now included with the SignUp4 Event Management System at no additional charge for all existing users.
About SignUp4
SignUp4 is the innovative meetings intelligence provider offering the highest quality event management and strategic meetings management solutions with an affordable unlimited usage model. Founded in 1999 and backed by an experienced team of technology and event management experts, we are driven by a single objective- to design, develop, deliver, and support the most reliable, cost-effective event management tools. To ensure we meet the needs of our clients and the demands of the evolving meetings industry, we develop new features and functionality every 5 weeks, on average producing over 1,000 updates annually. The goal of SignUp4's meetings intelligence is to streamline workflows, simplify and drive registrations, efficiently manage travel logistics, improve communications, and provide visibility into meeting spend for leveraging contract negotiations and increasing ROI. With over a decade of experience, 3,200 users and over 80 of the Fortune 500, we understand the value of your time and events.