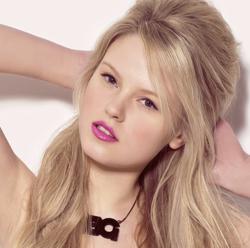 It's so exciting; we're so happy to be involved with such a big hit TV show. We are obsessed with hair styling, so to see great hair styles on stage is a real pleasure.
London (PRWEB) June 01, 2012
BobbyGlam Hair Extensions have been announced as the secret behind the glamorous hair styling on the BBC's brand new talent show 'The Voice'.
Hair Extensions from fashion-forward brand, BobbyGlam, have been used on Holly Willoughby and Jessie J throughout the series and on contestants like Leanne Mitchell, Bo Bruce, Ruth Brown, Becky Hill and Frances Wood to create super thick hair styles for the live shows.
Holly Willoughby has appeared on stage with her hair styled up into an on-trend ponytail and styled down in voluminous curls or styled poker straight, and singer Jessie J has been seen with a variety of long and short hair styles during the series; both stars have had a helping hand from BobbyGlam Hair Extensions for these looks.
Gemmy from BobbyGlam said: "It's so exciting; we're so happy to be involved with such a big hit TV show. We've been loving the hair styles so far. We're thrilled to see BobbyGlam hair extensions on Holly Willoughby, Jessie J and, of course, on the contestants!"
Quad Weft hair extensions, Triple Weft full head hair extensions and ponytails have all been used backstage throughout the series for a variety of different looks on the stars for their on-stage appearances on 'The Voice'.
Gemmy continued: "We just can't wait for the styling for the final show and we will be on the edge of our seats waiting for the winner to be announced too!"
BobbyGlam Hair Extensions can be seen on the stars for the final of 'The Voice' on Saturday 2nd June 2012 and Sunday 3rd June 2012 where the final four will face the ultimate test as one of them is crowned as The Voice.
BobbyGlam Hair Extensions are an L.A born, British influenced brand who have quickly gained a cult following; they have been used by celebrities such as Whitney Port, Geri Halliwell, Myleene Klass and Solange Knowles. BobbyGlam have brought together influences from the world's leading stylists to create a new generation of hair extensions to break free from the stereotype.