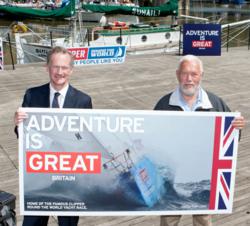 London (PRWEB UK) 1 June 2012
ST KATHARINE DOCKS, LONDON: John Penrose MP, Minister for Tourism and Heritage, has welcomed Sir Robin Knox-Johnston aboard the GREAT Britain campaign this morning at a launch ceremony alongside the legendary yachtsman's recently restored boat Suhaili, which he sailed around the world in 1968-69 to become the first person to do so, solo and non-stop.
Today, Sir Robin makes the dream of ocean racing come true for thousands of ordinary people though his unique Clipper Round the World Yacht Race, which is being used as a global platform to promote British business, international trade and tourism.
Tourism and Heritage Minister John Penrose said: "Sir Robin is a yachting legend and the Clipper Round the World Yacht Race perfectly captures the British sense of Adventure. It's a wonderfully creative way to promote tourism and trade around the world and it attracts thousands of visitors to ports of call around the UK. It's a powerful addition to our GREAT Britain campaign."
Sir Robin and the Clipper Race will feature prominently in distinctive posters and other promotional materials under the banner 'ADVENTURE IS GREAT BRITAIN' which will be promoted at race venues, events, on the web and in social media, including a short video. A 48-sheet poster campaign featuring Sir Robin and the Clipper race is being run in London to support today's launch.
As Chairman and founder of race organiser Clipper Ventures, Sir Robin commented, "I am really pleased that we are able to support the GREAT Britain campaign in this way. It combines my two great passions: sailing and promoting the UK, especially in this Olympic year, building on our heritage as a great maritime trading nation. I also regard it as a great honour that the Clipper Race has been selected as an iconic British event to be featured in this global campaign."
Sir Robin has restored Suhaili and brought it up to St Katharine Docks, London, to participate in the Avenue of Sail in this weekend's Thames Diamond Jubilee Pageant. However, on Sunday (3 June) his Clipper Race fleet of ten matched 68-foot ocean racing yachts will be 3,000 miles away in the United States, where it will parade past the Statue of Liberty with the lead boats flying distinctive Union Jack GREAT Britain branded spinnaker sails, en route to the heart of New York's financial district for an intense 5-day promotional campaign.
"While I am in London participating in the Avenue of Sail in the Thames Diamond Jubilee Pageant on Sunday, the Clipper Race will be flying the flag in New York. It will be quite a spectacle to see the fleet coming up the Hudson with the two lead yachts flying vast GREAT Britain spinnakers," added Sir Robin.
Following his participation in the Thames Diamond Jubilee Pageant on Sunday, Sir Robin will fly out to New York to get behind the GREAT Britain campaign there at a series of Clipper Race trade and tourism promotion events.
The GREAT campaign is an international initiative to promote trade and tourism for GREAT Britain and Northern Ireland. http://www.facebook.com/thisisGREATbritain
BACKGROUND
Sir Robin Knox-Johnston became the first person to sail solo, non-stop, around the world in 1968-69. His sense for adventure is legendary and at 73 he is a GREAT British sailing icon, having crossed oceans and circumnavigated the planet several times – being voted Yachtsman of the year no less than three times (See biog below).
As part of his sailing legacy Sir Robin wanted to create the opportunity for ordinary people from all walks of life and ages to experience the challenge of racing across an ocean and ultimately to compete in a circumnavigation. So in 1995 he created the Clipper Round the World Yacht Race – a biennial event which provides boats, professional training and global race management. It is currently in its eighth edition and growing from strength to strength, having trained around 4000 people to sail and undergo a life changing experience in the process.
Sir Robin is not only an avid sailor but is also passionate about building on Britain's heritage as a maritime trading nation by using the race as a platform to promote global trade, tourism and culture - bringing together UK and international destinations and businesses to stimulate commercial opportunities and relationships on a world stage.
The race takes its name from the original Clipper trading ships that ploughed the oceans over a century ago and still utilises many of the prevailing trade winds on its 40,000 miles route – the world's longest ocean race. Today the fleet comprises ten modern identical 68 foot stripped down ocean racing yachts.
Sir Robin and the Clipper Race not only represent the GREAT British sense of adventure but also demonstrate a GREAT British business which has established itself as a unique global event with a sustainable future. Crew places are oversubscribed and a new fleet of 12 identical 70 foot yachts will come into service next year to support the global race program through to 2020.
http://www.clipperroundtheworld.com http://www.robinknox-johnston.co.uk
-- ENDS –
PRESS CONTACTS:
Jonathan Levy, Director of Communications, Clipper Ventures: mobile 07813 948385
email: jlevy(at)clipper-ventures(dot)com (Departing for US 5pm BST 30 May)
Amy Martindale, Communications Coordinator, Clipper Ventures: mobile 07824 817270
Office: 02392 526000 email amartindale(at)clipper-ventures(dot)com
Isabel Hokken, PR Manager, Clipper Ventures (Currently in New York with the Race Fleet BST -5 Hours) UK mobile 07793 417751; US mobile +1 510 332 9093; email: ihokken(at)clipper-ventures(dot)com
Department for Culture, Media and Sport Press Office, Tel 0207 211 6271
Notes to Editors
The GREAT campaign is an international initiative to promote trade and tourism for GREAT Britain and Northern Ireland.
The campaign has been developed by DCMS on behalf of the Prime Minister, working with colleagues at the Foreign and Commonwealth Office, UK Trade & Investment, the Department for Business, Innovation and Skills, VisitBritain, and the British Council. The campaign offers a chance for the whole world to discover everything that the UK has to offer, as one of the best places in the world to live, work, visit, invest and do business. http://www.facebook.com/thisisGREATbritain
Media can register on the following Clipper Race web sites for royalty free stills and video
High resolution official images from Clipper 11-12 are available free for editorial use at:
http://www.w-w-i.com/clipper_1112_race/
Broadcast footage is available to download free for editorial use at: http://www.clipperbroadcast.com
For further information about the Clipper Race visit http://www.clipperroundtheworld.com
Clipper 11-12 Round the World Yacht Race
The Clipper 11-12 Round the World Yacht Race started on 31 July 2011 from Southampton on the UK's south coast and will return to the city in July 2012 after 40,000 miles of ocean racing – the world's longest ocean race. The event was established by Sir Robin Knox-Johnston to give everyone, regardless of sailing experience, the opportunity to participate in the exhilarating sport of ocean racing. Around 500 people representing more than 40 nations are competing in Clipper 11-12. They can sign up for the whole circumnavigation or one or more of eight legs. The only qualification for the race is the minimum age of 18 – there is no upper age limit. The overall race is divided into individual stages and points are accumulated in a Formula 1-style scoring system. The yacht with the highest total at the finish wins the Clipper Trophy.
About Clipper Ventures Plc
More than 40 years have gone by since Sir Robin Knox-Johnston's record breaking solo and non-stop circumnavigation in 1968-69. Now, as Chairman of Clipper Ventures Plc, he is at the forefront of promoting round the world yacht racing. Clipper Ventures, the marine events company founded in 1995, is focused on developing and promoting major events capable of attracting significant participation, income, media coverage and associated sponsorship revenue. Sir Robin founded the company on the premise that sailing should be made available to everyone, regardless of age or experience. Almost 4,000 people have now competed in the eight editions of the Clipper Race to date. The company also owns the rights to the VELUX 5 OCEANS race and runs successful Events and Training divisions.
Sir Robin Knox-Johnston
Sir Robin Knox-Johnston is the Executive Chairman and founder Director of Clipper Ventures Plc. Sir Robin has been involved in sailing all his life and holds a Department of Transport Master's Certificate. He is the first person to sail solo and non-stop around the world and has also set the record for the fastest circumnavigation with Sir Peter Blake. In 2007 he completed his second solo circumnavigation when he competed in the VELUX 5 OCEANS race. Sir Robin has considerable experience of the administration of round the world races having served on the Whitbread Race committee from 1990 to 1994 and having organised the BOC Challenge Round the World Race in 1982 and 1986. He has been named RYA/YJA Yachtsman of the Year an unprecedented three times and participated in the 2010 Sydney-Hobart race at the age of 71. More background at http://www.robinknox-johnston.co.uk
Avenue of Sail – Thames Diamond Jubilee Pageant
As the Thames Diamond Jubilee Pageant flotilla passes along the Thames, a collection of historic vessels will line the river from London Bridge to Wapping to create an Avenue of Sail. St Katharine Docks will host a dozen historic and important vessels that will be part of this Avenue of Sail and members of the public will be able to view close hand these unique and famous boats. For more information about the Thames Diamond Jubilee Pageant, visit http://www.thamesdiamondjubileepageant.org
St Katharine Docks
St Katharine Docks was acquired for £156 million by Max Property Group Plc in July 2011 and will be managed by Max's external managers Prestbury Investments. The living, breathing community of St Katharine Docks caters to all business sectors, from smaller businesses, to larger international firms looking for a new central London office - a beautiful place to work, visit and live in. Max Property Group is making significant investments into both the commercial premises on the Dock as well as its three marinas. The much-loved Dock is a beautiful and luxurious location steeped in history and will be subtly enhanced to create a high-profile destination that London can be proud of. http://www.skdocks.co.uk