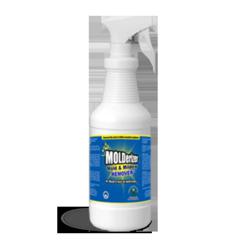 The non-toxicity of Molderizer gives way to a safe mold treatment.
Minneapolis, MN (PRWEB) June 01, 2012
In mold remediation, the wrong choice of solution could boost the mold removal cost. To a mold professional, that wrong pick could cause a job repeat. That, in return, could lead to loss of profit. Knowing that many of today's mold remediation products are not as effective as advertised, Molderizer.com introduced its non-toxic solution that was already proven effective by many large companies.
Learn More About Mold Remediation Products
The same with the online company's name, the solution is also called Molderizer. It is a mold remediation solution made of natural ingredients. Hence, it is non-toxic. And basically, that is the characteristic that makes it different from others.
The non-toxicity of Molderizer gives way to a safe mold treatment. And that is the particular thing that gives mold professionals a clear edge over others in the mold cleaning business. Because of it, there are more benefits that they can offer to clients apart from just the standard mold cleaning.
Check the Many Benefits of Molderizer
With the use of the non-toxic product, clients don't need to evacuate from the area treated. That means no hassle for them. In addition, it offers them a means to go green. And because of the spreading awareness about global warming and the increasing number of people who want to help preserve the environment, a green mold removal service can bring in more clients.
Apart from attracting more customers, the formulation of Molderizer also prevents mold from growing back. Basically, the product breaks down the DNA of the mold spores which, in effect, ensures that they are completely gone. With that, repeat mold treatment is prevented.
Additionally, because the product is a mold spray, it makes the implementation of the process easy to complete. Primarily, it is because it eliminates the need for hard scrubbing.
And thanks to those added features, labor cost is reduced as the product can complete the work of a number of employees.
Initially available only to large companies, every mold professional and mold sufferer can now get hold of Molderizer. The company has renewed its license and now supplies the non-toxic solution to the public. And understanding customers' apprehension towards new products, the company is offering a complimentary sample of the solution to prove it is safe and effective.