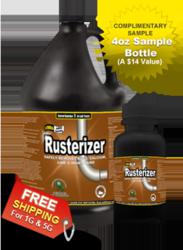 With all of its cleaners, MyCleaningProducts aims to provide mothers and property owners a way to go green every day.
Miami, FL (PRWEB) June 01, 2012
Rust removal used to require a lot of work and time. However, thanks to the invention of rust sprays, the process was made easier and faster to complete. The problem is that most rust removers are with harsh chemical ingredients. For a safer solution, MyCleaningProducts formulated a rust spray with the use of natural ingredients.
Hard scrubbing is what makes rust treatment a difficult and long work. Without any help, the rust is a pain to clear off a metal piece or surface. Its stain couldn't even be removed by brushing alone.
Nonetheless, with the help of a rust removal product, the whole process is narrowed down to just a number of simple steps. The thing, however, is that the majority of today's rust removers are made with chemicals that are harmful to health and the environment.
As a green company, MyCleaningProducts refused to follow the same formulation. And so, it used natural materials to produce its own rust removal spray calling it as Rusterizer. Non-toxic as it is, the product offers a safe way to clean rust and its stain on almost all kinds of indoor and outdoor surfaces and items.
Apart from Rusterizer, the green company has many other environment-friendly cleaners to offer. Examples of them are Safe Shield and Molderizer for mold prevention and remediation respectively. It also supplies pesticide-exempt pest-control products as Bed Bug Bully and Silver Fish Bully.
With all of its cleaners, MyCleaningProducts aims to provide mothers and property owners a way to go green every day. And with that, health and the environment are both benefited.
By carefully selecting their natural ingredients, MCP was able to infuse wellness with the cleaners. The fragrance of its ingredients creates a refreshing and relaxing environment. Meanwhile, the absence of harsh chemicals reduces the pollutants released into the environment.
Discover how MyCleaningProducts Infuses Wellness with its Cleaners
The ingredients that company uses to formulate its cleaners are from the remote areas in the world. However, most of them were discovered in the jungles of Peru. And to give back to the land that made it possible for MCP to produce quality and safe cleaning solutions, it partnered with "Salud and Musica" Foundation.
With every product sold, the company donates an amount to the foundation. The money is used to build a school for the unfortunate children.
Apart from its charity project, MyCleaningProducts also gives back through special deals and packages to its clients. Every so often, especially on holidays, the company offers its cleaners with big savings.
Take Advantage of MyCleaningProducts' Treat for this Week. Get the 1-Gallon, 5-Gallon or 55-Gallon of Any Cleaner for a Free Shipping.