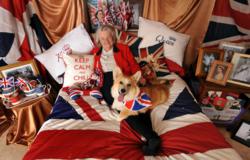 Wimdu is all about finding unique alternatives to the traditional means of accommodation and that is exactly what Margaret's house symbolises. £75 is a small price to pay for a unique Jubilee experience that you will never forget.
(PRWEB UK) 1 June 2012
With days to go before the Queen's Diamond Jubilee, world renowned royal memorabilia collector, Margaret Tyler, is for the first time ever opening her doors for guests to stay overnight and view what is thought to be the most extensive private collection of royal memorabilia in the country.
In an effort to get Brits to discover the magic of the Monarchy, Margaret has redecorated the 'Sandringham Room' to give overnight guests a truly unique Jubilee experience. The room is a dedicated shrine to the Queen's 60 years on the throne and is packed with authentic collector's items. Commemorative mugs and plates line the walls, beautiful pictures depict the Queen's reign, Corgis come as an optional extra and, of course, there is a Union Jack or two.
This regal room is nestled in the suburbs close to London and can be rented for only £75 per night for two people on home rental website Wimdu.co.uk. This price includes a guided tour of Margaret's collections, and a traditional royal breakfast of kedgeree – fit for a Queen.
Margaret herself achieved UK notoriety as a royal memorabilia collector at last year's Royal Wedding but this is the first time she has allowed guests to sleep among her priceless collections.
She comments, "It makes me very proud when I see other people enjoying the Royal Family and taking an interest - I feel it is my duty to promote them and get people interested in their history. The 'Sandringham Room' is my tribute to the Queen's reign and I believe that anyone who spends the night there will come away feeling truly patriotic!"
Karim Hardane, CEO of Wimdu UK said: "We are delighted to have Margaret as one of our hosts. Wimdu is all about finding unique alternatives to traditional accommodation, and she definitely went the extra mile to ensure the guests will get a truly memorable experience".
Booking link: https://www.wimdu.co.uk/offers/B3KCHBS3.
About Wimdu
Wimdu is a social accommodation community that brings together travellers and hosts from around the world to enable consumers worldwide to travel like a local.
Wimdu enables hosts to generate additional income on their spare rooms, while guests can search for a room and a rate that suits them. The site lists a range of over 50,000 properties internationally across over 100 countries with everything from boltholes in Berlin to English castles.
Wimdu was founded in 2011 by serial entrepreneurs Hinrich Dreiling and Arne Bleckwenn who wanted to harness social media to transform the way consumers are travelling worldwide. Wimdu's Managing Director in the UK, Karim Hardane manages a team of over 30 and lists over 3,000 properties nationwide.