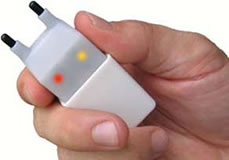 My wife had a lot of moles. We treated these with the Viral Inhibitor Pro and they started to shrink.
Springville, Utah (PRWEB) June 03, 2012
The VyGone Inhibitor Zapper has been significantly reduced in price when purchased through the VyGone website. The normal retail price of $199.95 has been reduced to just $139.95 which includes free shipping and delivery to the US and the rest of the world. The zapper is a genuine alternative to commonly prescribed anti-viral medicines and has none of their side-effects.
The VyGone Inhibitor Zapper Pro is an effective cold sore treatment and can be used to treat a number of other conditions. It can be used to treat a range of skin conditions including warts, shingles, herpes, moles and Molluscum Contagiosum. The zapper is a 100% natural treatment that works using advanced electro waveform technology. The device emits electrical pulses that stimulates neural activity and stops herpes activity outside the nerves.
Using the VyGone Zapper Pro it is possible to treat outbreaks and sores caused by the herpes virus and prevent symptoms from ever appearing. Regular use of the zapper has been proven to reduce the frequency and severity of attacks of cold sores and other annoying symptoms of the herpes virus. The zapper is of course non-chemical, non-invasive and has no side-effects. It is discrete, portable and can be used to cure cold sore in as little as 4-8 treatments with the device. As the zapper can be used for thousands of applications it is also an economical alternative to prescription and over the counter medicines.
About VyGone
The VyGone Inhibitor Zapper has received rave reviews from sufferers of cold sores and other conditions since its introduction in 2006. A number of clinical test have been carried out on the zapper in which it has performed exceedingly well. Both the VyGone Inhibitor Plus and Pro can be purchased through the website at http://www.vygone.com/.