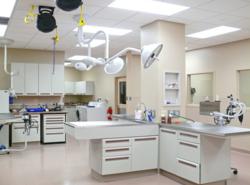 Gary Coopersmith, VP, oversees many of the firm's animal care projects. "Veterinary construction combines many technical and design features such as operating rooms, complex HVAC and unusual architecture, and animals are a passion for our employees."
Cranbury, New Jersey (PRWEB) June 05, 2012
Sweetwater Construction Corp., a recognized leader in New Jersey construction management and general contracting with an expertise in human surgery center construction (26 facilities) and healthcare construction, has just completed True Care Veterinary Hospital in Howell, NJ. The new Bridgewater Veterinary Hospital (NJ) is underway, and construction is set to begin on Hunterdon Hills Animal Hospital in Whitehouse Station, NJ and Bayshore Veterinary Hospital in Holmdel, NJ. For more on Sweetwater's veterinary construction services, please visit http://www.sweetwatercorp.com/VeterinaryConstructionNJ.aspx.
True Care Veterinary Hospital is a 6,000 square-foot practice with dog and cat luxury wards, 4 exam rooms (including an oversized special procedures suite), treatment area, surgical suite, dental suite, digital X-ray suite, isolation ward, pharmacy, laboratory, complete digital records, offices, and a library. Client amenities include separate dog and cat waiting areas, kid's nook, free wi-fi, and coffee bar. Dr. Thomas Tullio, DVM, owner, is a well-respected community veterinarian in Monmouth County.
Bayshore Veterinary Hospital, owned by Dr. M. Moniello, DVM, will be relocating to a beautifully renovated building that used to be the police barracks in Holmdel, NJ. Design for both True Care and Bayshore was provided by Jeffrey L. Grogan Architects of Conshohocken, PA.
Hunterdon Hills Animal Hospital, an 8,600 square-foot building, will be constructed to replicate a dairy barn, including a silo, and incorporate a reclaimed and reconstructed 19th century Pennsylvanian barn as the reception/waiting area. Inside the structure will be dog, cat and goat wards, 5 exam rooms, a state-of-the-art surgical suite, dental suite, in-house laboratory, pharmacy, offices, conference room, and library. Dr. Charles Westfield, DVM, is the current owner of Hunterdon Hills Animal Hospital, established in 1946 as a mixed-animal practice for the dairy farms in the area. Silberstang Lasky Architects of New York, NY is the architect for Hunterdon Hills Animal Hospital.
Originally founded in 1992, Bridgewater Veterinary Hospital, already under construction, will be a 6,000 square-foot facility and is owned by Dr. Bruce Levinston, DVM. The building design includes a vaulted ceiling reception area and skylights, above separate dog and cat waiting areas. The space will contain dog and cat wards, 5 exam rooms, surgical suite, dental suite, treatment area, pharmacy, lab, ICU recovery, and isolation ward.
Sweetwater is especially proud to list its first two vet facilities as Winslow Animal Hospital in Sicklerville, NJ, and NorthStar VETS Emergency Trauma & Specialty Center in Robbinsville, NJ. Both are recipients of the prestigious Veterinary Economics Hospital Design Awards; a 2011 Merit Award for Winslow and 2012 Best Specialty/Referral Practice for NorthStar.
About Sweetwater Construction Corp.
Established in 1974 and headquartered in Cranbury, N.J., Sweetwater is guided by a proven management team and a client-centric business philosophy. The firm provides clients with skilled preconstruction and construction services backed by professional commitment and personal accountability. Sweetwater's project teams possess proven track records in the corporate, healthcare, science and technology, hospitality, multi-family and institutional sectors. Sweetwater's notable project methodology delivers expertise in budgeting, estimating, constructability, lifecycle reviews and project control methodology; all of these coming together to help ensure a successful project. For more information please visit http://www.sweetwatercorp.com.