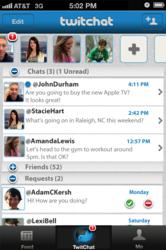 TwitChat allows you to instant message other Twitter users, adding a new and fun way to communicate on the already popular social network.
Atlanta, GA (PRWEB) June 25, 2012
TwitChat, a social networking app for Twitter, has officially launched both free and paid iPhone versions this week in the App Store. This innovative app syncs up with the user's Twitter account and adds more functionality to the well-known social media site. The main feature of TwitChat is its ability to let the user share instant messages with other Twitter friends in their account all on their iPhone. The team behind TwitChat saw a public need for this functionality inside Twitter and sought to create it.
"Facebook users have the ability to chat with their friends, so why shouldn't Twitter users be able to?" said Marcus Thomas, TwitChat CEO. "With TwitChat, Twitter fans can now use instant messaging inside Twitter, making the social media tool even more powerful in today's world."
Users can simply sign in to TwitChat using their Twitter login info. After the login process is complete, TwitChat users can send private or group messages to their friends. It's also a full-featured Twitter app, allowing users to view their timeline, send tweets, reply to mentions, and more
TwitChat is currently available for free in iTunes. A pro version that has no ads is available for $1.99. For more information visit http://www.twitchat.im.
About: Founded in 2011, TwitChat was originally the idea of three students at the Georgia Institute of Technology, and winners of the 2011 Undergraduate Georgia Tech Business Plan Competition. As a 3rd party instant messaging application, TwitChat expands the functionality of Twitter beyond its ingenious design that already boasts 400 million users. In addition to using your already established Twitter profile to interact with people publicly (through tweets), users can communicate through Twitter instantly and privately, and in small groups.