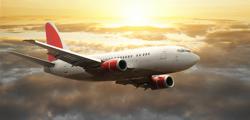 (PRWEB) June 01, 2012
Travelers looking for international flights can now save on tickets to India, InsanelyCheapFlights announced today. The site is offering a discount on flights to Mumbai, Delhi, and Jaipur, as well as several other cities in India. Flyers who book travel to India in the month of June can use a promo code provided by the website to lower the cost of booking their flight.
Travelers to Mumbai looking to stay in a hotel for the duration of their trip can also book their flight and hotel together, potentially saving hundreds of dollars. The site also offers tickets for activities in many cities, as well as car rental options. The savings can be used to experience more of what India has to offer - fly to Delhi and visit the Kahn Market, or check out the Abhaneri Step Well in Jaipur.
"International travel can be very expensive," says Steve Oliverez, CEO of InsanelyCheapFlights. "Whether it's for business, visiting relatives or just a vacation, the costs can really add up. We wanted to make traveling by air to India more affordable."
InsanelyCheapFlights.com was founded in 2009 with a focus on finding the cheapest flights available online. While many travel sites have shifted gears in recent years toward promoting hotel offerings, InsanelyCheapFlights has maintained its focus on cheap airline tickets. This approach has allowed the site to gain traction against larger, more established websites. The past three years of rapid growth has made the travel startup a real contender in the industry.
In addition to India, InsanelyCheapFlights offers cheap airfare to many other international destinations as well. Travelers can save money on flights all over Asia, including flights to Tokyo and Hong Kong. Flyers looking to save money can visit the homepage of the site and find a promotional code that can be used when booking a flight through InsanelyCheapFlights. The discount applies to service fees only.