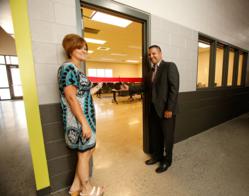 Chandler, AZ (PRWEB) June 01, 2012
360 Vantage®, a leader in cloud-based sales and marketing technology solutions, announced today it has contributed $50,000 to ICANAZ.org, a local nonprofit in Chandler, Arizona that helps at-risk youth and families.
The donation is being used to help build and equip the technology classroom in ICAN's new 20,000 square-foot Lon E. Hoeye Youth Center opening on June 4, 2012.
"360 Vantage has been a long-time supporter of ICAN and we're excited we are able to make this level of impact in our community," commented Mario Martinez II, 360 Vantage CEO. "Most importantly, we're helping to positively impact the lives of the kids and families that ICAN supports every day. I'm especially proud of our team who is working so hard to achieve a level of success that allows us to give back in such a meaningful way."
The new technology room will give Chandler youth and their families the ability to discover and learn on the latest computers and mobile devices for researching school projects, completing homework assignments and more.
About 360 Vantage®
Established in 2005 and headquartered in Chandler, Arizona, 360 Vantage® is a leader in cloud-based sales and marketing technology solutions designed to solve the unique challenges of the mobile workforce in Life Sciences, Healthcare and other industries. The company offers a full suite of professional and managed services in addition to its 360 CRM™, 360 CLM™, compliance, e-Learning and data solutions. Every solution is designed and implemented in record time and with unparalleled user adoption rates, helping the mobile workforce be more productive from anywhere and from any device. The service-based approach also adds new efficiencies to the business and gives the organization a distinct competitive advantage. The company CEO and founder, Mario Martinez II, is a Life Sciences sales technology veteran and can be found on the company blog, Twitter @360Vantage or @360CEO, LinkedIn, and Facebook. For more information visit http://www.360vantage.com.