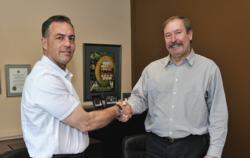 We're excited about the immediate benefit this will offer to our current GeoNexus customers.
Calgary, Alberta (PRWEB) June 08, 2012
Pandell Technology Corporation, a pioneer of Software-as-a-Service (SaaS) industry solutions, announced today that it has acquired Calgary-based software company, Prizm Surface Group. The acquisition includes Prizm's Surface Land Information Management software assets (SLIM), its active personnel resources, and an existing customer base of E&P, electric utility, and pipeline companies. Specific terms of the deal were not disclosed, however, the purchase was described as a combined cash and share purchase arrangement.
"Prizm brings a combination of industry expertise and software resources to the table that are an ideal complement to our existing GeoNexus land management solution," says Greg Chudiak, Pandell's President and CEO. "We're excited about the immediate benefit this will offer to our current GeoNexus customers. Going forward, we'll leverage Pandell's leading-edge technology to upgrade the SLIM software products to web-based offerings, which will deliver even greater value to our clients."
About Prizm Surface Group Ltd.
Prizm Surface Group started as a land brokerage firm in 1991 and in 1995 launched a field-tested suite of workflow tools to manage surface land information. Surface Land Information Management software, or "SLIM", includes tools for road-use, third party agreements, and surface file management. Used by prominent oil & gas companies, surface land brokers, electric/utility companies, and municipalities, SLIM streamlines surface land administration processes including document generation and full life-cycle maintenance activities.
For more information or to request a product demonstration, please contact Pandell at 403.271.0701 or email: info(at)pandell(dot)com.
About Pandell Technology Corporation
Pandell is a software solutions company that delivers industry specialized software products and business services. For oil and gas companies, Pandell offers its suite of Nexus software products and professional accounting services. For enterprise organizations, Pandell is recognized for building and supporting large-scale, secure, web-based applications delivered on Pandell's advanced Lithium 4 technology. With its industry expertise and leading-edge technology, the company delivers the most modern, affordable software solutions and business services to its clients.