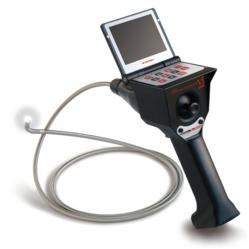 "Not only did RF System Lab have a great scope at a great price, but they let us demo it in our own shop before we bought it. After the demo, purchasing it was a no brainer – the scope performed."
Ken W. – Quality Assurance Technician-Aviation
Gaylord, Michigan (PRWEB) June 18, 2012
RF System Lab's no cost, no obligation demo of their ground-breaking 3.9mm and 6.9mm VJ-Advance video borescope has been highly popular with companies looking for a high quality, full-featured borescope at a reasonable price. The new VJ-¬Advance is so compact, it ships easily via UPS, and it's so easy to use, no sales rep needs to be onsite to demonstrate how to use it. RF's onsite demo program takes the guesswork out of determining whether the VJ-Advance can adequately perform any specific inspection at a user's facility.
The VJ-ADV video borescope is available with 3.9mm or 6.9mm diameter insertion tube, in lengths ranging from 1.5 meters to 5.0 meters. Key advantages of the VJ-Advance include joystick-controlled 4-way articulation, built-in 3.5" LCD monitor, medical quality optics, and onboard image and video capture capability. The scope is also highly portable, weighing only 22 oz., and uses off-the-shelf AA batteries.
The 3.9mm VJ-Advance is being rapidly adopted in the aviation industry as the perfect scope to conduct inspections on the Pratt and Whitney PT6 as well as other small turbine aircraft engines. The 3.9mm scope is also finding its way into the wind turbine maintenance market where its compact size and light weight make it uniquely suited to conducting top end bearing inspections.
The larger diameter 6.9mm VJ-ADV is the workhorse of the borescope industry, used in every conceivable inspection application from GE90s and LM2500s to chemical processing plants, paper mills, gas compressors, and oil refineries. Whatever your unique application, there is more than likely a VJ-ADV model to fit your needs. Already, the scope is being used at companies such as Boeing, Chevron, Conoco Philips, Dow Chemical, Exelon Nuclear, Ford Motor Company, National Oilwell Varco and many more.
No-Cost, No-Obligation Demo Program
To arrange to receive your no-cost, no-obligation demo scope, call RF System Lab at 989-731-5083, or fill out the demo form online at http://www.rfsystemlab.us.
About RF System Lab
RF System Lab. was founded by Mr. Jiro Maruyama in Nagano, Japan, in 1993 and is a worldwide leader in micro camera and optic technology. The industrial division is located in Gaylord, Michigan and serves customers throughout North and South America. Today RF System Lab's video borescope systems are used around the globe in a wide variety of industrial and commercial applications.