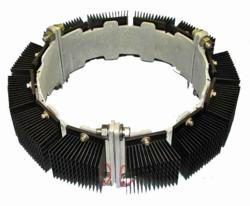 The PowerStrap's benefits extend beyond energy conservation savings to impact the bottom line.
Dallas, TX (PRWEB) June 05, 2012
Thermoelectric generator provider Marlow Industries today released their EverGen™ Series PowerStrap technology, a green alternative for industrial, oil and gas customers. The PowerStrap, a unique configuration of thermoelectric generators bound to fluid pipes or exhaust stacks, will harness unused thermal energy to produce electrical power for sensors, transmitters and other micro-devices.
The patent-pending PowerStrap technology solves the battery maintenance and replacement pain-points currently experienced by micro-device users by offering a perpetual power source with minimal maintenance required. For customers looking to deploy sensors and other low power electronics in remote or hard-to-access locations, the previously impractical and costly barriers of extensive hardwiring, frequent battery replacement, or onsite generators are eliminated. The PowerStrap's benefits extend beyond energy conservation savings to impact the bottom line.
The EverGen™ PowerStrap offers a perpetual power source for sensors, solenoid valves and wireless transmitters to measure temperature, flow rate, pressure and other processes requiring remote placement; thereby ensuring reliable process monitoring systems.
When compared with solar technology, the EverGen™ PowerStrap offers 24/7 power generation based on minimal temperature differential; thereby eliminating dependence on a steady stream of sunlight or warmth to harvest power. When integrated together however, solar and energy harvesting technology may offer a solution of maximum power and efficiency.
EverGen™ PowerStrap technology is applicable for either hot or cold pipes and is capable of generating power where a temperature difference exists between the pipe and the local surrounding ambient temperature. The technology is well suited for steam or other industrial process piping with temperatures below 40°C to 120°C.The PowerStrap generates multiple watts in power output depending on size, temperature difference and quantity of straps deployed. As airflow increases, power output is also amplified up to 40%.The Power Strap is available in several diameters and form factors. Marlow offers customized quotes to accommodate specific application requirements. Additional field data and technical resources are provided on the Marlow website.
About Marlow Industries, Inc. | A subsidiary of II-VI Incorporated
High quality, high performance, thermoelectric solutions at industry competitive prices—Marlow Industries, a subsidiary of II-VI incorporated, is the world leader in quality thermoelectric technology. Marlow Industries develops and manufactures thermoelectric modules (TEMs) and subsystems for the aerospace, defense, medical, commercial, industrial, automotive, consumer gaming, telecommunications and power generation markets. Marlow is actively involved in numerous other R&D programs to advance the state of the art in both thermoelectric cooling and power generation. Marlow is Telcordia and ISO 9001:2008 compliant and a Malcolm Baldrige National Quality Award winning company.
About II-VI Incorporated (NASDAQ Global Select: IIVI)
II-VI Incorporated, the worldwide leader in crystal growth technology, is a vertically-integrated manufacturing company that creates and markets products for diversified markets including industrial manufacturing, military and aerospace, high-power electronics and telecommunications, and thermoelectronics applications. Headquartered in Saxonburg, Pennsylvania, with manufacturing, sales, and distribution facilities worldwide, the Company produces numerous crystalline compounds including zinc selenide for infrared laser optics, silicon carbide for high-power electronic and microwave applications, and bismuth telluride for thermoelectric coolers.