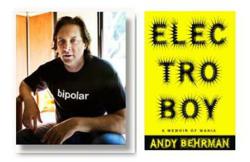 It is my intent to "Stomp out Stigma" of mental health through promoting awareness.
- Chris P. Gorman
(PRWEB) June 06, 2012
On June 16, 2012 at 6:00 pm PST Andy Behrman the author of "Electroboy: A Memoir of Mania," published by Random House will be appearing as the host of the Runaway Mind Show on Blog talk Radio!
As far as manic-depressive tales go, Andy Behrman's story is typical. His illness went undiagnosed for a decade, a period of euphoric highs and desperate lows highlighted by $25,000 shopping sprees, impetuous trips to Tokyo, Paris and Milan, drug and alcohol binges, days without sleep, sex with strangers and jail time. After seeing 8 psychiatrists, Andy finally received a diagnosis of bipolar disorder on his 32d birthday. Over the next year and a half, he was treated unsuccessfully with more than 30 medications. Andy's suburban New Jersey upbringing, achievements as a film major at Wesleyan and a thriving career in public relations wouldn't help.
Runaway Mind is excited to host as the June special guest Dr. Chris Gorman, The Optimal Performance Doctor for the Runaway Mind Radio Show (click here to listen). Dr. Gorman will speaking about the stigma of mental illness and more than just how to "stop" the stigma. Dr. Gorman is Secretary of BC Psychiatric Association, Co-Host of Color Commentary/Condition of the Day - Beautiful Minds Radio (http://www.beautifulmindsradio.org) and a happily married, proud father of four amazing children.
In San Diego, California Dr. Gorman practiced his optimal performance approach to psychiatry in a variety of settings and was a Clinical Assistant Professor at the University of California, San Diego. As Medical Director of the Palomar Intensive Outpatient program in San Marcos he provided care to an under-serviced population. His private practice in Rancho Santa Fe allowed him to focus on providing high quality treatment, for recovery of conditions that high-performance people experience. Some of his most educational and rewarding work occurred during contracts that took him to a Methadone Clinic in Los Angles and the Mentally Ill Offenders Crime Reduction Program for the San Diego Sheriffs Department. Prior to practicing in San Diego, Dr. Gorman was the Medical Director of the inpatient unit at Rockyview Hospital and the Bipolar Clinic at Foothills Hospital in Calgary, Canada.
Andy Behrman is a mental health writer and speaker who has traveled to more than fifty cities across the United States and Canada, Andy speaks to more than two hundred mental health organizations and support groups, psychiatrists, psychiatric nurses, college audiences, and book clubs, frequent contributor to mental health websites including "Healthline." He has appeared on Anderson Cooper 360, NPR Radio and on the cover of Bipolar Magazine. http://www.electroboy.com "Electroboy" is currently being made in to a feature film.
(If you missed the May radio show click here to listen as Maggie Reese, author of "Runaway Mind, My Own Race with Bipolar Disorder" talks with her Mother, Father and Sister about how the family dealt with getting through Maggie's Bipolar Disorder. For anyone or any family going through the challenge of dealing with mental illness this show is a must listen!)
To order the book "Runaway Mind, My Own Race with Bipolar Disorder", learn more about Maggie Reese and hear previous episodes of the On the Runaway Mind Radio Show go to her website at http://www.runawaymind.net. You may also follow her and post questions on facebook.com/RunawayMind. Watch her videos of how Maggie gets through her daily life on her YouTube channel at http://www.youtube.com/user/runawaymindbook.